Over the last twelve months, it feels like we have all been focused on one thing when it comes to taking care of our health. We have masked up, locked down, and bought endless bottles of hand sanitizer (and moisturizer!). But it is important to remember that there is so much more that we can do and should be doing when it comes to looking after our bodies and minds. 
It is especially easy when things are so stressful to let these things slide, treat ourselves more than is sensible, or ignore the warning signs that suggest that we should be doing things a little differently. 
Well, now that the summer is here, the restrictions are starting to be lifted, and we are finally venturing back outside to meet our friends and family again. It is high time that we all take a little more personal responsibility to take care of our health. If you need a little inspiration for how you can better understand what your body is telling you it needs, or rather doesn't need, here are a few simple tips to help you get started.
Keep Track Of Your Fitness With A Smart Watch
The days of only being permitted to leave the house for one hour a day are finally behind us, and most of us are itching to get back into the fresh air for some exercise. We will even be able to get back into the gym to resume our old workout regimen. That is obviously particularly good news for those of us who have been missing those machines and weights and the guidance of a personal fitness instructor! But maybe you are looking to start a new fitness regimen, and you aren't feeling confident about where to start. According to Wyndhamhealth, it is recommended to have a smartwatch for checking your blood pressure. This part should be monitored while doing your fitness routine.
The first thing to remember is to set yourself some realistic and achievable goals. If you set the bar too high straight out of the gate, the chances are that the program simply won't be sustainable. Think about how much time you have every day and plan your workout routine accordingly. Whether it's running, cycling, or just going for a brisk walk, hitting those goals every day will help you keep it going after you've got over the rush of finally getting back out there. A fitness app or smartwatch is a worthwhile investment to help you keep to the routine and show you just how much you're improving as you keep going!
Book That Eye Test
We have all spent an awful lot of time staring at our screens over the past year or so. Throughout the pandemic, our routine has pretty much been switching between the screen we use for work, then the screen we use to watch TV, then the screen we use to scroll through social media and the news. As a result, the chances are that you have not been particularly kind to your eyes. It is almost certainly time to book an eye test to see if you could be due a new pair of glasses.
How Are Your Teeth Doing?
While the pandemic may not have been as actively hard on our teeth as our eyes (unless you factor in all that stress sugar snacking, no judgments here), it is a fact that we have put off non-essential appointments at the dentist as we do our best to limit our social contact. Unless a wisdom tooth snapped in half or you fell on your face while jogging, you will have decided that it is best to wait until things feel a little safer before making the appointment for that regular check-up and clean. 
Well, it's been more than a year since the pandemic started, and even if you have been brushing, flossing, and rinsing with impeccable regularity, there's a good chance that your teeth could do with a bit of care and attention at the hands of a professional. Call your dentist and see if they are taking non-urgent bookings and give those pearly whites a bit of TLC. You can add a dermal repair complex to your daily routine.
Figure Out What Is Making Your Body Uncomfortable
During the lockdown, we have all been leaning heavily on comfort food and easy cooking options (apart from that one dinner every week or two where you push the boat out and try a brand-new recipe). When we have felt uncomfortable after eating, we tend to chalk it up to everything that is going on right now that could be causing us stress. After all, we're living through a pandemic, we haven't seen our friends and family in months, and we are not getting the same amount of exercise that we would usually. 
However, if you find that your diet is causing you persistent discomfort, then it's time to stop making excuses for it and get to the bottom of what the problem is. Say, for example, that you are experiencing stomach pain, bloat, diarrhea, wind, or vomiting after you've eaten your breakfast toast or that sandwich for lunch. You may have a wheat intolerance. A food intolerance test is a simple way of identifying what foods and drinks your body is struggling with and can confirm whether you have an intolerance to wheat. Check My Body Health is the number 1 choice for health tests and is a UK government-approved provider of general testing.
Make An Appointment For A Sports Massage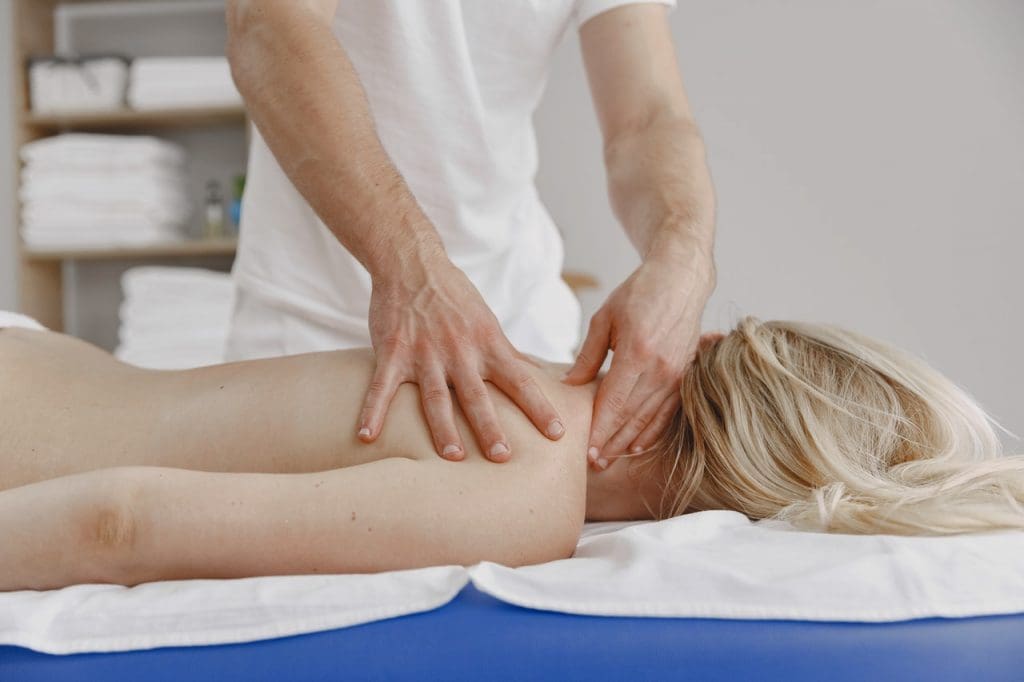 It isn't just our eyes that have suffered from the amount of sitting and staring at screens that we have been doing. Working from home has been terrible for our posture, as many of us either set up a desk at a table that was absolutely the wrong height or spent far too long sitting with a laptop on the sofa in a position that may have felt comfortable but was definitely not doing your spine any good. 
While you may have taken some steps towards improving your home office setup over the last few months and have been doing plenty of yoga in front of the TV, we would suggest seeing a professional. Not only will a professional massage therapist be able to take care of those aches, pains, and bones clunking where they shouldn't be, but they will also be able to show you exercises and better posture habits to keep you from suffering more lasting painful consequences further down the line.
Don't Neglect Your Mental Health
Now, this one is a little tougher to keep tabs on. After all, there isn't a simple test that you can take, and there isn't a quick fix. However, the impact of the pandemic on the mental health of people of all ages all over the globe has been devastating. It is so important that you do not ignore your own. 
If you feel like you are struggling, talk to your doctor or make an appointment with a private counselor to help address the issues and plan to move forward. Remember that there are many resources available and that telling friends and family how you are doing is not a sign of weakness. We've seen just how important communication and honesty are over the last year, and you may have more support out there than you think. But they won't know how you're doing unless you tell them. 
Featured Photo by Pixabay from Pexels