The following post is from Christina of Northern Cheapskate: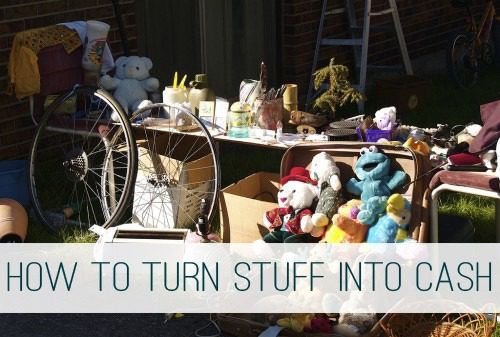 We all have stuff.  It's filling our closets, hiding under our beds, tucked into cabinets and lurking in attics.  Rather than clutter up our homes, why not turn that stuff into cold hard cash?   Here are some ways to tidy up and make a tidy profit, too!
1. Hold a garage sale.
It takes a bit of time to mark the prices and set up your garage for a sale, but you can make a decent wage if you know what items sell best at garage sales. Encourage your neighbors to have a sale at the same time to bring more traffic to your sale and invite friends and family to contribute.
2. Sell your stuff on consignment.
If you've got quality clothing, kid stuff (like high chairs or toys) or furniture, consider taking it to a consignment shop to sell. Use these tips for selling on consignment to get the most money for your stuff. You don't get paid until your items sell, but at least they're out of the house.
3. Send your stuff to an auction site.
If you've got some highly collectible items, and you don't want to take the time to sell your items online, you could find an auction company in your area that may be willing to auction your items off.  You'll have to pay the auction company, but it can be a way to get top dollar for your unique items.
4. Take your stuff to the scrap lot.
Some items, like aluminum or copper, are worth more as scrap than in their original form.  Take them to your local junk yard or scrap lot and bring home a little extra cash.
5. Participate in a flea market.
If your community hosts a flea market or swap meet, find out how much it costs to have a booth.  You can sell your stuff and meet some interesting people in the process.
6. Sell your stuff on eBay.
Ebay is a classic place to sell your stuff.  It does take a bit of time to take pictures, write descriptions, and package things up to mail.  But if you have a unique, in-demand item or a collectible, it's well worth the time invested. Check out the free e-book The Stay-at-Home Mom's Guide to Successful eBay Selling for everything you need to know to get started.
7. Sell your stuff on Amazon.
If you're looking to get rid of things like books, CDs, DVDs and video games, try Amazon.  If the item has a UPC or an ISBN on it, listing is even easier than on eBay because Amazon will pull all of the descriptions and photos from its huge database for you.  No writing or camera needed!  If you're willing to let Amazon take a slightly bigger cut of your profits, you can even ship all your stuff to them and let them handle shipping to individual buyers.
8. Sell your stuff on Craigslist.
If you've got furniture, household goods, vehicles, or other larger items to sell, Craigslist can be a very useful way to sell your stuff.  Follow these tips for selling stuff on Craigslist to avoid any unpleasant experiences.
9. Sell your stuff through Facebook.
Check to see if there are any local Facebook groups in your area that allow you to list items you have for sale. In my area, there are several groups dedicated to everything from kids clothing to toys to furniture. Many of the tips for selling stuff on Craigslist apply to interactions with people on Facebook as well.
10. Sell your stuff in the classifieds.
Your local area may offer free classified ads in a newspaper, or on a website.  Explore all the free options first, before shelling out money on the ads.
11. Sell your stuff via word of mouth.
Put the word out that you're selling some stuff.  You just may have exactly what a friend or family member is looking for.   Consider offering up a large collection (like kids clothing) for a flat rate and see if you have any takers.  They'll get a great deal, and you won't have to individually price a bunch of stuff at a garage sale!
12. Upcycle your stuff.
Take that clutter and turn it into something new that you can sell.  Turn fabric scraps into quilts. Turn old t-shirts into bath mats.  The only thing you are limited by is your creativity.  Once you've upcycled your stuff you can sell it using one of the methods described here or by listing it on Etsy.
13. Donate your stuff.
Finally, if you don't want to take the time to sell you stuff, you can donate it to your favorite non-profit organization.  You won't get cash directly in your pocket, but you could claim a tax deduction on your donation which could help you keep more money in your pockets at tax time.
When it comes to turning your stuff into cash, the biggest consideration is time.  How much time do you want to spend selling  your items?  You may find that it is worth it to pay someone to sell your things for you.  Or you may find that taking the time to sell your stuff is worth being able to keep 100 percent of the profits.
Once that clutter is gone and the money is in your wallet, take a look around your home and enjoy!
What stuff do you want to turn into cash?

Christina Brown is the creator of Northern Cheapskate, a blog dedicated to frugal living through coupons, freebies, and money-saving ideas. She lives in the rural north woods of Minnesota where she clips coupons, pinches pennies, and chases her three boys (a 7-year-old and twin 5-year olds) as a stay-at-home mom.