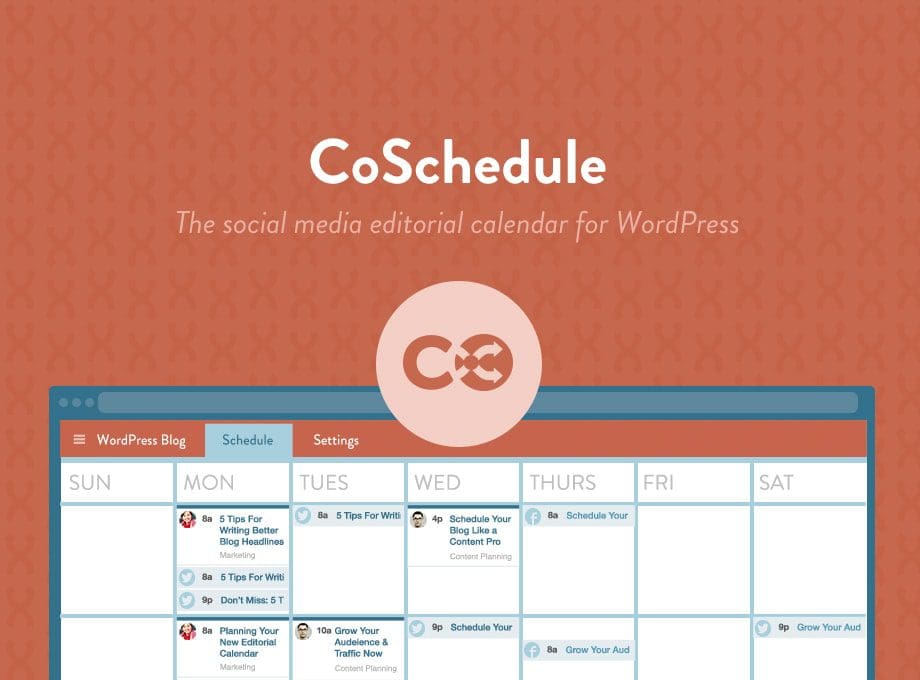 If you're not a blogger, you're probably going to want to skip right past this post (and I don't blame you one bit!), but this was too good not to share with my fellow bloggers!
Have you seen the buzz about CoSchedule, the integrated editorial and social media calendar for your blog?
A friend mentioned it to me several weeks ago, but I try hard not to jump on every new thing that shows up, so I ignored it at first. After the 4th or 5th time I saw it mentioned, though, I finally gave in and signed up for a trial.
To be honest, I wasn't sure it was going to be worth the effort of setting it up, but I could definitely see the potential, so I committed to giving it a fair chance during the 10-day trial, and I am so glad I did.
First, what is CoSchedule?
It's basically a drag-and-drop calendar plugin for WordPress, but if you've ever tried any other calendar plugins, let me assure you that this is nothing like those.
Not only is it a calendar that lets you draft and schedule blog posts, it's also a social media calendar, which means you can schedule posts to your social media profiles from your WordPress dashboard (all except Instagram, I think).
But there's more: In addition to scheduling those social media posts for when each blog post goes live, you can also schedule them hours, days, months or even, I suspect, years later. And then you can see all of the posts you've scheduled on your calendar to help you space them out rather than overloading your social media profiles accidentally.
And if you need to move your blog posts to a different day, the social media posts you've scheduled will roll with it!
In addition, you can create a task list for each post on your calendar, assign posts and tasks to other team members, and even schedule pins, Facebook posts and tweets that are unrelated to your blog posts.
And if you run or contribute to several blogs, you can access all of your calendars in one place.
Oh, and one of my favorite features? I can even schedule posts in the Life Your Way Monthly Facebook group as I think of questions or come across resources to share so that those aren't all going up at one time and leaving the group with crickets when life gets busy!
I finally feel like I'll be able to intentionally manage my social media profiles rather than a) just shooting in the dark at random or b) using them only for my personal satisfaction.
They offer a free 10-day trial so you can try it for yourself, but after that, it's only $10/month or $100/year. For me, that feels like a steal!
This post is not sponsored in any way by CoSchedule; I'm just really, really excited to have found a solution that is both highly sophisticated and extremely simple all at once.That said, after I wrote the draft of this post, I realized they offer a 50% discount on a yearly subscription for writing a review, so I'll definitely be taking them up on that offer!
I'd love to know…how do you manage all of your social media profiles?