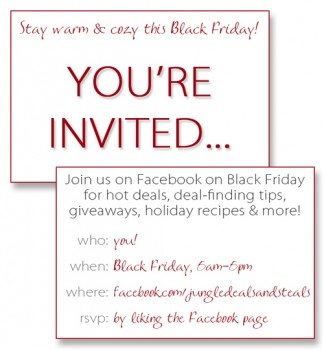 As you may know, my mom and I also run Jungle Deals & Steals, where we share Amazon deals on groceries, household items, Kindle freebies, toys and more. That means Black Friday is a pretty busy day for us as we work all day to share the best deals with our readers!
This Black Friday is no exception (although we will be taking turns snuggling Jackson this year!), and we'll be sharing the best Amazon.com deals, tips for saving money, recipes, crafts and more on the site and the Jungle Deals & Steals Facebook page. And we'll be giving away $10 gift cards every hour on the hour on Facebook!
We'd love to have you join us and save money without leaving the house…or changing out of your pajamas. Here's how:
1. Like Jungle Deals & Steals on Facebook.
2. Click on the Liked button to open the dropdown menu in the screenshot above and check Show in News Feed.
3. Also check Get Notifications, and you'll be notified when we post a new status update.
4. When you see a deal you like, like the post or leave a comment. The more you interact with the page, the higher Facebook prioritizes it in your news feed!
See you then!