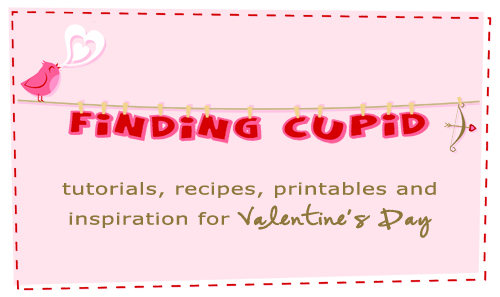 Valentine's Day was never that important to from a romantic standpoint (although the year Sean took me on a dinner cruise out of the Baltimore Inner Harbor when I was 18 years old is pretty memorable!), but as a mom, I've always loved it.
It's a fun just-because holiday with lots of crafts and candy and no real expectations of big gifts or family get-togethers. Pretty much the perfect holiday, in my opinion!
So this year I'm excited to tell you about our upcoming Valentine's Day series, which we'll be kicking off on January 30th!
We'll be Finding Cupid through crafts, treats, printables and more (and there might just be another free ebook in there somewhere too!), with plenty of opportunities for other bloggers to share the things they're doing in daily link parties:
Monday, 1/30 –Valentine Crafts, Cards & Treats
Tuesday, 1/31 – Sweet Desserts
Wednesday, 2/1 – DIY Valentine's Day Décor
Thursday, 2/2 – Free Printables
Friday, 2/3 – Party Food & Snacks
And even if you don't have a blog, you'll be able to attach pictures of the things you're working on in the comments as well; I'd love to see them!
I haven't been doing much crafting since our 101 Days of Christmas ended, so I'm excited to get back at it!
I hope you'll join us!