This is a sponsored post written by me on behalf of Tom's of Maine. All opinions are 100% mine.
Over the years, I have made my own deodorant, used crystal deodorant and tried various natural deodorants, but each time I have a baby, I end up switching back to a conventional deodorant (sometimes even a clinical strength deodorant) because I can't handle the stink that comes from hormones that are completely out of whack!
After Jackson's birth, this switch happened once again, but this time I've just stuck with the conventional deodorant/antiperspirant (mostly out of laziness), even though I've had good experiences with natural products in the past.
When Tom's of Maine asked if I wanted to try their line of natural deodorant, it was the push I needed to make a change I've been thinking about anyway.
They sent me a tube of each of the three varieties—Wild Lavender, Natural Powder and Unscented— of their Long Lasting Natural Deodorant. I'm honestly not a huge fan of lavender scented anything, and I like my deodorant to have a scent, so I decided to try the natural powder.
I'm used to a dry deodorant, and this deodorant goes on a little wet, which took some getting used to. It dries quickly once it's applied, though, and I never even think about it once it's on.
Since it can take your body 3-7 days to adjust to a new natural care product, I decided to test the deodorant while we're here in NC. Even spending time outside in the 80-90 degree heat, I haven't had any trouble with odor!
While there isn't any conclusive evidence that traditional deodorants cause any health problems, I like that Tom of Maine's is free of aluminum, artificial fragrances and petrochemicals and still works just as well as the conventional stuff! And the packaging is also fully recyclable through your local pick up or the TerraCycle Tom's of Maine Natural Care Brigade.
It's important to note, though, that this is an a deodorant not an antiperspirant, which means it prevents odor but not perspiration.
It will definitely be replacing my other deodorant, and I'll have to let you know how it holds up after the newest Ehman arrives!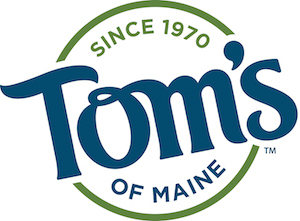 Follow Tom of Maine's on Facebook and Instagram for coupons, special offers and green living tips!