The following post is from Shaina of Food for My Family and Olmanson Photography:
Soft, yeast doughnuts filled with a thick blackberry jam and topped with a lime glaze made an appearance at our house recently. This is how they came to be.
We were sitting in church, the organ music filling the room as offering plates were passed starting in the front pews. Next to me on the thinly-padded bench my son's feet swung in time with the music – one, two, three, four. Back and forth.
As the plate passed from one hand to the next in our pew of six, he turned to me with bright eyes and long lashes wide open and hopeful. Then in a voice just above a whisper, "Mom, can we get doughnuts after church?"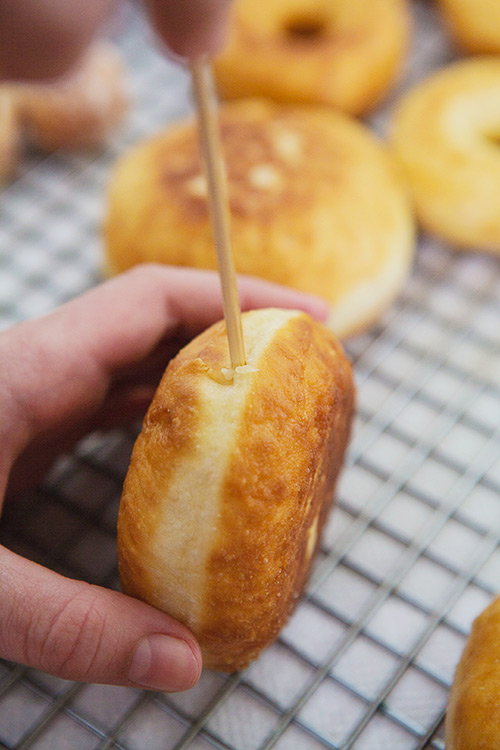 We are not a doughnut family. In fact, I can count the number of times that we've been out for doughnuts together in any given year on one hand. This is not for a dislike of doughnuts. It's hard to dislike fried dough when done right, after all. No, this is because some parent is picky about their doughnuts. Having had a good many great doughnut, just any old doughnut won't do.
Equipped with my smartphone, the search was on. While we found doughnuts that day in s'mores and salted pretzel and bear paws the size of your face, it did nothing for quelling the craving. Instead, it only sparked a desire in a certain parent's heart to create a doughnut that would live up to expectations, that would sit on the tongue rich and light and just sweet enough all at once.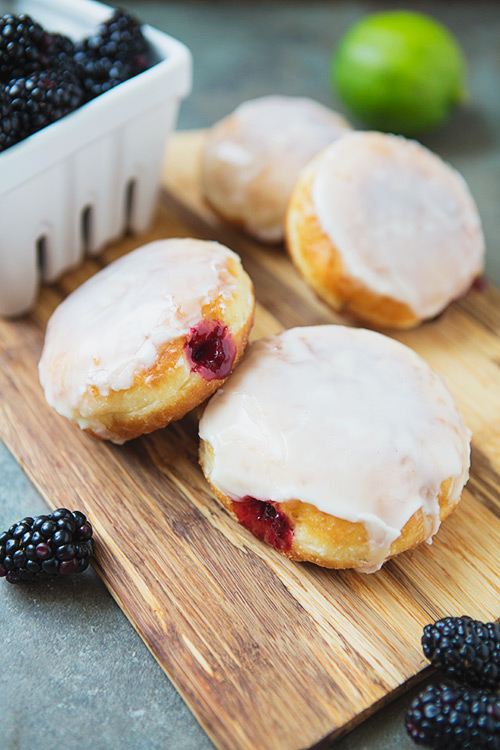 That is how we ended up spending the next day off school making doughnuts. We mixed dough after breakfast and read while waiting for them to rise. We cut them out and colored during the second rise. Then as we snacked on leftover berries and handfuls of nuts, we prepped the last bits and set up the pan for frying just before lunch. There were no complaints.
Lime and Blackberry Jam-Filled Doughnuts
Recipe Type
:
dessert, breakfast
Author:
Prep time: 3 hours
Cook time: 10 mins
Total time: 3 hours 10 mins
Ingredients
1/3 cup buttermilk, room temperature
1/4 cup water
1 egg, room temperature
5 tablespoons melted butter
1 teaspoon vanilla extract
4 cups einkorn flour (can substitute all-purpose)
1/4 cup palm sugar or granulated sugar
1 teaspoon salt
2 1/4 teaspoons yeast
16 ounces oil for frying
2 cups blackberry jam
1/2 cup fresh blackberries
1 lime, juiced and zested
1 cup powdered sugar
Instructions
In a stand mixer combine the buttermilk, water, egg, melted butter, and the vanilla. Whisk together until well mixed.
Add in the flour, sugar, salt, and the yeast. Mix with a dough hook until a soft dough forms and pulls away from the sides of the bowl. Remove from the mixer and knead 10 times for the dough to come together.
Place the dough in the bowl and cover with a towel. Set the bowl in a warm place until the dough has doubled in size (1 – 1 1/2 hours).
When the dough is ready, remove it from the bowl and roll it 1 1'2″ thick. Cut 4″ circles using a biscuit cutter. Place each circle of dough on a small piece of parchment and place them on a baking sheet. Cover loosely and place in a warm area to rise for one hour.
While the dough is rising, prepare the filling. In a small saucepan add the blackberry jam, the fresh blackberries, and one half of the lime juice. Reserve the remaining lime juice for the glaze.
Bring the mixture to a boil, then reduce the heat and simmer until the blackberries begin to break down. Cool slightly and pulse in a food processor or blender until thick and smooth. Set aside.
In a heavy-bottomed pan with high sides, bring the oil up to 350º F. Add in the dough circles, being careful not to overcrowd the pan, 2-4 doughnuts at a time. Fry for 2-3 minutes per side, until they turn golden brown.
Drain the fried doughnuts on a cooling rack with a paper bag or paper towels to catch the oil.
Mix together the powdered sugar and 2 teaspoons of the remaining lime juice. Add more lime juice as necessary until a thick but smooth glaze is formed.
While the doughnuts are warm, take each doughnut and using a wooden skewer, poke a hole in the outside edge and towards the other side of the doughnut, being careful not to go all the way through. Move the skewer back and forth to create a small pocket of space to hold the jam.
Fill a pastry bag fitted with a round tip with the jam. Squeeze bottles will also work. Insert the tip into the hole of the doughnut and fill with jam, about 2 tablespoons of jam per doughnut.
Once filled, dip the top of each doughnut in the glaze, allowing excess glaze to drip off. Set back on the cooling rack and allow to rest until the glaze is set.
3.2.1255
Have you ever made doughnuts at home?
Shaina Olmanson is the freelance writer, photographer, and home cook behind Food for My Family. Cooking daily with and for her four kids and husband, Ole, drives her desire to inspire other families to do the same. Shaina is also the author of Desserts in Jars and contributes regularly to a variety of online sites and traditional print magazines.