For centuries, watches have been one of the most elegant accessories and fashion statements. The right watch can make anyone feel like royalty; it can make you look polished and sophisticated. While watches are a universal epitome of style, they are very personal. Everyone has their own idea of the perfect watch when it comes to function and design. However, while taste a subjective, quality is not. Anyone can point out a high-quality watch. Similarly, poor watches are easy to distinguish; elements and features are easily identifiable. While many people believe that quality and unaffordability go hand in hand, you can purchase a decent watch without breaking the bank. All you need to do is understand which aspects to search for. If you are looking for a new watch, make sure to check out these buying tips for guidance.
Watch Material
If you are planning to purchase a new watch, you shouldn't opt for one made with a material that stands below stainless steel; it's the least you should consider. If you are more flexible with your budget, you can look into ceramic or titanium watches as they are typically harder and generally better quality. If you compare regular steel to stainless steel, you will find that the latter holds up well against precipitation and moisture. You should also ensure that the watch is coated in PVD to maintain its black, rose gold, silver, or gold color. If you purchase one that lacks coating, you can expect the color to last for no more than a year. In many cases, the heaviness of the watch is a good indicator of stainless steel quality; the heavier it is, the more solid it is. If you want a higher purity watch, which would be more expensive, check with the retailer if they have any 316L stainless steel. 
Movement of Watch
You can purchase a quality yet affordable watch that either rotates quartz or COSC. A good, affordable watch has a quartz movement or a certified mechanical movement. Several automatic watches under 200 run on the quartz type of movement. Quartz watches are mainly advantageous because they come in fewer operating parts, making them highly precise and affordable options. Other movement types used by renowned brands are Seiko, Ronda, and Miyota. They offer great value and durability. These watches can last you for a decade or more if you keep them properly maintained. Mechanical watches are especially rare and expensive since they are handmade and consist of numerous movable parts. 
Watch Glass
One thing that you should always search for when you are buying a watch is sapphire glass. Sapphire glass generally makes a quality watch; however, it still depends on your watch's purpose and what you intend to use it for. Sapphire glass will always remain scratch-free and entirely clear even after it's exposed to violent, frequent use. If you are looking for a more average watch, mineral or crystal glass can suffice. They are a lot cheaper but are also more likely to get scratched and ruined. 
Water Resistance Properties
A quality watch usually comes hand in hand with a 10 ATM water resistance feature. Water can be your watch's worst enemy; it's also something that you use daily- it's inevitable. This is why you should always search for a watch with a waterproofing feature. The movements and the materials inside the watch should also be water-resistant. Though, keep in mind that the degree of water resistance varies from one watch to the other. While you may shower or go swimming with one, another will barely hold up after you wash your hands. A 10 ATM water-resistant watch means that it can sustain up to 100 meters of pressure; it's suitable if you would like to go swimming with it. You can shower with a 5 ATM watch and wash your hands while wearing a 3 ATM one. You need a watch that's at least 3 ATM for the minimal level of comfort and flexibility; it's annoying to keep taking your watch off every time you need to wash your hands.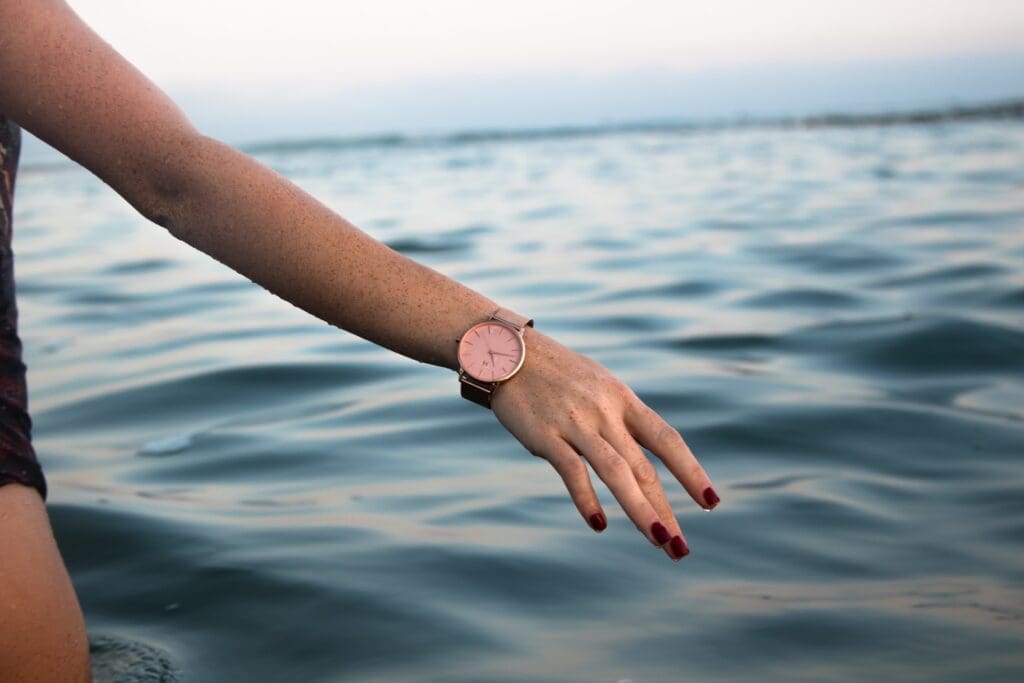 The Straps
The elements that were discussed above were mainly pointing to the case of the watch. If you need a water-resistant watch, invest in one with a good strap for ultimate value. For instance, if your watch has leather straps, eliminate contact with water. Make sure that the band is snug around the case and that it has narrow and symmetrical seams.
Watches have always been a sign of high fashion, elegance, poise, and affluence. They are among the most powerful fashion statements that you can rock. Anyone can easily identify poor quality from great quality watches. When looking for a new watch, check for these features to ensure that your watch is right for your needs. 
Featured Photo by Fabian Heimann on Unsplash