One of the hottest new trends in home decor is the use of vinyl wall art to add a design or saying to your walls without the expense or permanence of custom paint jobs!
With dozens of companies to choose from, it can be hard to know where to look for designs for your own home, and today I want to introduce you to another Life Your Way sponsor, A Great Impression.
Mary Zimmer, the owner and designer, founded the company on her love of good design and her desire to bless other families.
From Scripture verses to sayings and abstract design, you'll find it all at A Great Impression, but here are some of my very favorites:
With four daughters, I love this design! Not only is it a beautiful verse, but I think the art itself is stunning, and I can definitely see adding this to our girls' bedroom wall as they get older!
"I will give you rest" — a beautiful verse to put on the wall of your home, for friends and family alike!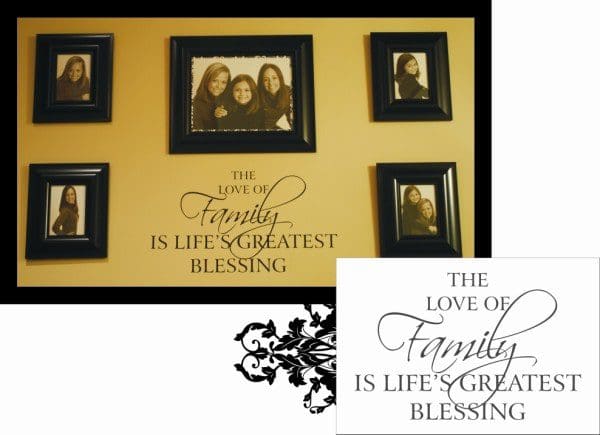 Add a little something to a family photo wall with this beautiful saying!
Mary's newest design — just in time for Father's Day — is this custom family tree! Look closely and you'll see that she's added individual names to the branches. We've been looking for a creative way to add a family tree to our hallway upstairs, and I think this is a great fit!
And of course, the image up at the top is a fun, creative touch to any wall or mirror. Best of all, you can even clean the mirror without erasing your special love note.
Visit A Great Impression today to find the perfect design for your home!
Do you use vinyl wall art in your home?