The following post is from Jessica of GoodCheapEats and LifeasMOM: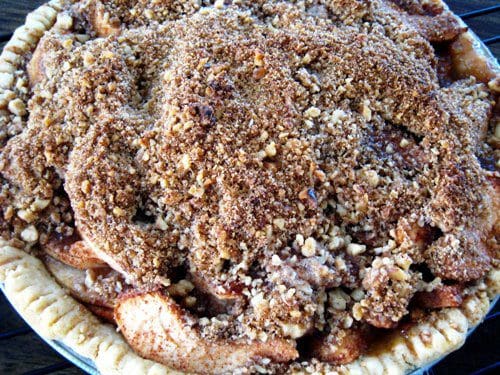 My childhood Thanksgiving dinners were different than many of my contemporaries. We never had sweet potatoes of any kind. Ever. Green bean casserole? What's that? Pumpkin pie? No, not that either.
Mom and Dad, both born and raised in the Midwest, moved to California as newlyweds, far from family. At the holiday time, they celebrated with friends and distant relatives who happened to live within driving distance. They created their own traditions, traditions that they observed for my childhood and beyond.
Our Thanksgiving meals always featured turkey, mashed potatoes and gravy, stuffing, escalloped corn, jellied cranberry sauce from the can, baked beans, rolls, butter, and a relish tray. We stuffed ourselves, took naps, played games, and then after a walk around the neighborhood, came home for dessert: my mom's Apple Pie, Toffee Dream, and a layered pistachio pudding dessert. We had these foods every year without fail.
This was Getskow Family tradition as I knew it.
Forget the fact that my cousins, also Getskows, knew nothing of some of these dishes. They enjoyed their own Thanksgiving meals, according to the way their parents combined their own family histories.
And so it goes. As we become adults, marry and then have children, we get the privilege of building our own Thanksgiving traditions.
Here are some things to consider as you think about what your Thanksgiving traditions will be.
What do you love from your childhood?
This is the stuff that memories are made of and how traditions are passed on from one generation to the next. My mom's apple pie is a staple around our house. Even though I've been known to tweak it, my kids know and love it as "Nanna's Apple Pie," and I think it will be something that they pass on to their children.
I married a man who adores jellied cranberry sauce from the can. So, you know which tradition is a keeper.
Keep the foods and practices that you love from your own upbringing, hold them close, and make them a part of the fabric of your lives.
What could you live without?
Truth be told, I don't love escalloped corn. Though it is my dad's very-favorite-it's-not-Thanksgiving-unless-we-have-this kind of dish, it's not my favorite. So I don't make it. And I don't feel bad. If we are celebrating the holiday with my parents and siblings, my sister or my mom prepare this dish, and everyone's happy.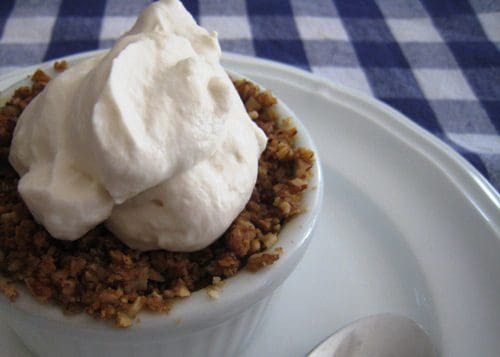 But, I don't feel bad about letting go of traditions that don't fit my family's or my tastes.
Are you willing to add and subtract as the years go by?
Times change. Food preferences and diets are transformed over the years. New and interesting recipes will cross your path. Your grandma's collection of vintage recipes will resurface. Be willing to add Thanksgiving traditions — or leave some behind — as the seasons change.
This year green beans, sweet potatoes, and pumpkin pie will all be a part of my family's Thanksgiving dinner. Even though I never had those foods as a child, we're giving sweet potatoes a go this year. Our green beans are simply steamed, but that's how our family prefers them.
My kids will start the day with Turkey-Shaped Breakfast Rolls, a tradition that we started four years ago that has remained a precious part of our holiday. But if one of my boys requests something particular, I want to have ears to hear it and invite him into this adventure of making our own thanksgiving traditions together.

Do you have steady traditions each year that never change or are you in the process of making your own?
| | |
| --- | --- |
| | A gourmand at heart, Jessica Fisher has learned to reconcile a tight budget with her love for great food. As a busy mom of six voracious eaters, she regularly shares healthy, delicious and budget-friendly recipes at GoodCheapEats. She also writes at her parenting blog, LifeasMOM. |