Confession: While my husband remembers almost every detail of his life from when he was two years old, I have a terrible memory, just remembering snippets here and there rather than specifics. Because of this, I hold my memories tightly, and these candles are on that list.
I can clearly remember making these with my mom when I was five or six years old, and even though I only remember one time, I've always had it filed under "holiday traditions" in my memory banks. But I had to ask her for the details over the summer because I couldn't remember exactly how we'd made them or even what made them so special!
As it turns out, milk carton ice candles are as simple as they get, but they're so much fun to make! I think I might have the girls make some of these for their Sunday School teachers this year because they were fascinated by the process, just like I was.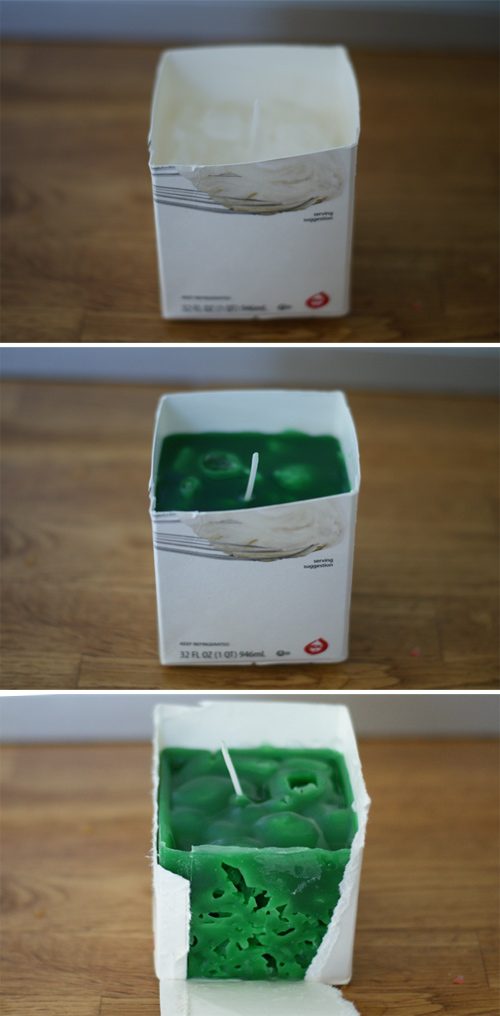 Supplies:
paper milk carton*
crushed ice
candle wax
crayons for color (optional)
essential oils or fragrance (optional)
wicks
tin can
*I used a quart cream carton
Directions:
Cut the wax into pieces with a paring knife and add to a (clean) tin can. Set the can inside a saucepan and heat over medium-low until the wax melts. (Do not leave the wax unintended while it's heating.) If you want to use crayons for color, add a peeled crayon to the can as well.
While the wax is melting, cut your milk carton to height. Cut the wick so that it is 1/2″ taller than your carton. Poke a small hole in the bottom of the carton and thread the wick through it just enough to hold the wick in place.
When the wax is ready, fill the carton with crushed ice, holding the wick vertically. Adjust the wick as needed, and then the ice should hold it in place.
Add fragrance to the melted wax and stir gently with a wooden skewer.
Pour the wax carefully into the carton until it just covers the ice.
Set in a bowl or tray (to catch the melting ice) and let harden — about an hour. Peel the cardboard off and let the candle air dry before wrapping.
Variations:
Use oatmeal or salt containers for round candles
See what happens when you use smaller or larger pieces of ice
Create layers with different colored waxes
Related Projects:
Join us as we celebrate 101 Days of Christmas with new DIY projects, gift ideas, traditions and more every day from now through Christmas!