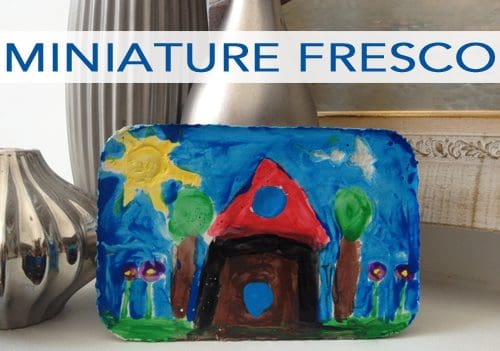 I've had the supplies for this project on hand for quite a while because we were going to make miniature frescoes during Easter as a homeschooling project (inspired by the Telling God's Story Activity Book). Then I thought they would make sweet Mother's Day gifts, or Father's Day, or — well, you get the picture.
This weekend we finally got around to making them for Christmas gifts, and the girls had a blast painting on something other than paper. Although they put the paint on a little thick in a few places (because we used the tempera paint we had on hand rather than watercolors like we were supposed to!), it's very cool to see how the paint does actually soak in and meld with the plaster, and we spent some time talking about other frescoes and how they're often used for large wall murals.
Our six-year-old painted the mini fresco above, complete with a bird carved into the upper left corner. I love how it turned out (as well as the ones her sisters painted) and may just keep these as a Christmas gift for myself!
Supplies:
plaster of paris
water
measuring cups
popsicle stick for stirring
watercolor or tempera paints
Directions:
Start by mixing the plaster in the drip pans. For an 8.5″x6″ drip pan, use 1/2 cup water + 1-1/4 cup plaster for a 1/4″ thick fresco, or 1 cup water + 2-1/2 cups plaster for a 1/2″ thick fresco.
Stir gently with the popsicle stick and then smooth the surface.
Note: It's extremely important that you don't wash any of the plaster down the sink, as it can harden in your pipes. Use disposable containers and carefully clean up any drips with a paper towel.
Let dry for 15-20 minutes, until the surface begins to harden. It should be firm enough to paint on without being completely dry. Paint with paint brushes or, if using tempera paint, your fingers!
Once your paint is complete, set aside to dry. Let the paint dry, and then remove the completed fresco from the foil pan.
Related Projects:
Join us as we celebrate 101 Days of Christmas with new DIY projects, gift ideas, traditions and more every day from now through Christmas!