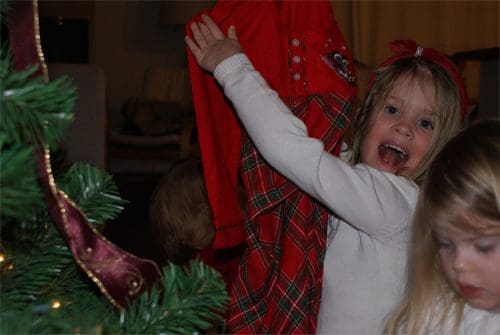 One of our favorite Christmas traditions is to give the girls new Christmas pajamas each year, which they get to open on Christmas Eve after church. They look forward to this "first gift," and it makes for cute pictures on Christmas morning as they come down the stairs with crazy hair and sleepy eyes!
We typically get our pajamas at Old Navy (I especially love their fleece nightgowns, which the girls wear all winter long), but you'll find cute pajamas at a variety of retailers. We've even been known to do hand-me-downs for the toddlers among us, and I wouldn't be opposed to buying nicer used brands such as Gymboree or Hanna Anderson at a consignment shop, although it'd be a little harder to find matching or coordinating sets that way!
Do you buy special Christmas pajamas for your kids? What is your favorite brand or style?
Join us as we celebrate 101 Days of Christmas with new DIY projects, gift ideas, traditions and more every day from now through Christmas!