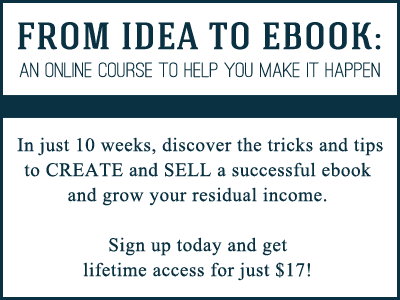 There are a lot of areas in life where "good enough is enough" and it's important to let go of the idea of perfection. While it's important not to let perfection paralysis stop you from getting your ebook published, it's also important not to just throw content together quickly with the hope of making a few bucks and no consideration for your reputation or the effect it will have on word of mouth marketing (good or bad!).

In Module 2, we're talking about exceeding your customers' expectations. Michael Hyatt, Seth Godin and Scott Stratten are among my favorite marketing gurus, and we'll be taking a look at what they say about this idea as we cover:

Why good enough is not enough
How you can exceed expectations with any ebook you write
And how you can strive for
excellence without being paralyzed by the idea of perfection
And More
In addition, I'm sharing a video with some of my favorite examples of this concept at work in the brick-and-mortar world as well as how I personally looked for ways to exceed expectations with my Easy Homemade. And we've got some great new case studies!
If you haven't signed up yet, it's not too late to join us: Register today and get lifetime access to all 10 modules, the set of case studies, all of the printables and the resource lists for $17!
Can you think of examples where businesses — online or brick-and-mortar — have blown your expectations out of the water?