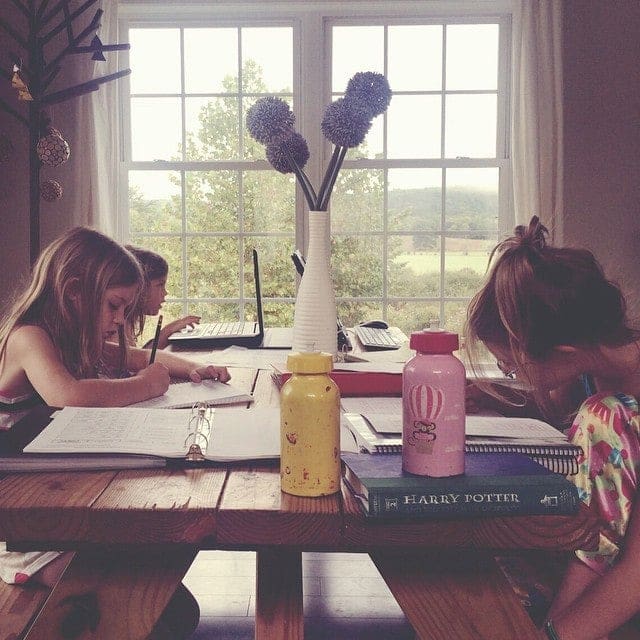 Our homeschool year is off to a fantastic start, and it's enough to stop me in my tracks several times a day with thankfulness and joy.
I'm not telling you this to gloat; I'm telling you because it wasn't that long ago that we seriously considered other options and almost threw in the towel altogether.
Sean and I knew we were going to homeschool from the very beginning of our relationship. It's something I've wanted to do since I was 16 (when my parents pulled me out of the private Christian school I attended in favor of a home correspondence program), and Sean has been on board since we began dating shortly after that.
When our oldest turned 3, I began experimenting with various preschool programs — Five in a Row, Sonlight, my own curriculum, etc.
And time and time again, my efforts turned to frustration. I'm great at lesson planning, but not so great at execution. As a busy work-at-home mom of three under three and then four under five, there were just never enough hours in the day and our lessons would get put off, shoved aside or end in frustration.
When our oldest was 7 and still not reading fluently, I felt an extreme amount of guilt because I was sure I was failing her.
Looking back, I think it was really a combination of my inconsistency and her own brain development (and now, at 10 years old, she can read anything you put in front of her and has devoured hundreds of books in the last few years), but it was the wake-up call I needed to really find a solution.
That was the beginning of our journey into independent work, which has literally transformed our homeschool.
While I am still very much involved in their schoolwork (especially now that we have four students, a fact that I still can't quite wrap my head around), I am able to assign and oversee, helping when they get stuck or keeping them on track throughout the day, rather than teaching all day every day. That has allowed me to juggle work and homeschooling without feeling like they're getting the short end of the stick.
And it's worked. That first summer after I made that decision, we started with just the basics, adding in subjects as they got the hang of working independently.
While we've had hard days along the way and had to make adjustments to our curriculum, we're all really enjoying homeschooling now. Our girls wake up and come downstairs ready to dive into their school day, knowing what's expected of them and challenging themselves to get it done quickly (but knowing Mom will be checking quality).
There is still occasional whining, I'm still trying to find a routine that leaves me time to concentrate on work without a million interruptions, and we need to figure out how to get them the alone time they need since school now extends into the afternoon, but our first two weeks have been really amazing, especially when compared to that spring 3 years ago when I felt like a complete failure.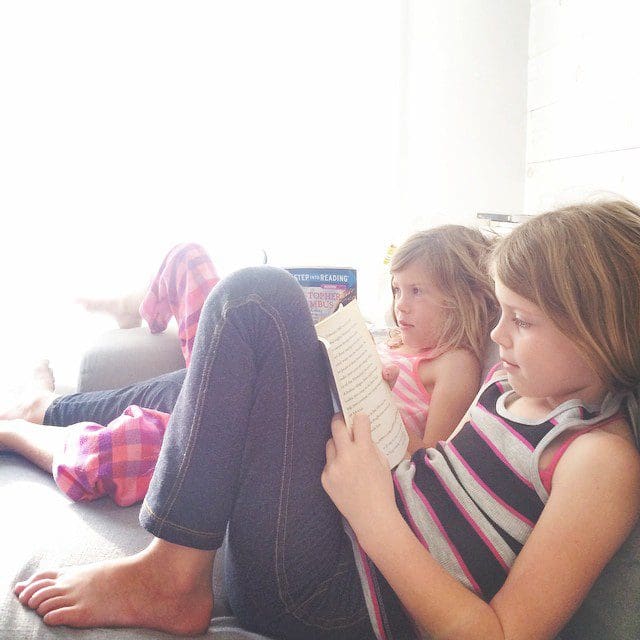 What I realized was two-fold:
1. Just because "school" is hard with preschoolers and kindergarteners doesn't mean it will always be a struggle. It's okay to take a step back and just enjoy stories and real life learning experiences, even if you don't plan to unschool the whole way through. Our girls all excel in language arts, and I don't think it's because of anything I've done other than provide dozens and dozens of audiobooks for them to listen to every day. Our younger girls have all been ready to jump into their kindergarten year without any academic preparation at all just because we count and talk and explore together all day.
2. If what you're doing isn't working, sometimes you need to buckle down and practice discipline…and sometimes you need to change what you're doing. I'm so thankful for the wake-up call that Susan Wise Bauer gave me three years ago that made me take a hard look at our homeschooling methods and put new ones in place. I was trying to white-knuckle my way through with a strategy that wasn't working for any of us, and my girls were beginning to dislike school and fall behind because of it.
No one I knew was talking about independent work for young students when we moved to this method; we "invented" it for ourselves out of necessity. But while it felt like a risk, it's turned out to be the best decision we've ever made.
To be clear, I'm not saying the way we do it is the right way for everyone or the best way overall.
What I am saying is it's important to figure out the best solutions for your family. Because once you figure it out, it's a whole new experience.