As I suspected, I didn't get much reading time while we were in Florida on vacation, and I'm looking forward to vacations where it actually makes sense to pack a stack of books…maybe in a decade or so!
But I set my goals low for the month of August and mostly chose light, easy reads — although I'm not sure The Fault in Our Stars qualifies as either of those — so I could just practice the habit of making time for reading again without fighting my way through a harder book. It felt good to read a few books in between blog projects, traveling and general pregnancy exhaustion.
The big girls continue to read voraciously, and our 6-year-old is working hard to improve her reading skills so she can keep up with her sisters. That's pretty fun to see!
Here is my list for last month, and my plans as we head into fall, but I'd love to know what you're reading as well. Just add your link at the bottom!
Books I Finished
The Fault in Our Stars by John Green
As promised by every review I've read, The Fault in Our Stars is a heartbreaking and raw story, and there were times I wondered why I'd chosen this to read when I'm already feeling over-the-top emotional! But despite the heartache and sadness, it's really a beautiful story too, and while I wouldn't say I enjoyed reading it, it's really good and one I would recommend.
That said, I've seen it on some junior high reading lists, and I think it's probably more appropriate for highschoolers. We'll see how I feel when I actually have kids that age, though!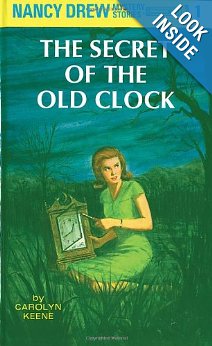 The Secret of the Old Clock (Nancy Drew, Book 1) by Carolyn Keene
After reading many of the books from the Nancy Drew Notebooks series, the girls have been begging to read the "real" Nancy Drew books, and I told them I would preread one and make a decision. Two things struck me:
1) This is not great writing. Ha! I loved Nancy Drew when I was a kid, but I found the stories somewhat tedious, and unlike other children's fiction I've read, I have no desire to read any more of these books with the girls.
2) I was impressed by the "sweetness" of a story that involves conspiracy and danger and mystery. While the story itself was exciting from the perspective of Nancy solving the mystery, there really wasn't anything that I questioned as inappropriate even for our 7-year-old, although the intended audience is older. A sign of the times, I suppose!
For now, I'm avoiding giving them an answer because I would rather them spend some time reading some higher-quality literature before delving into another series, but there really wasn't anything in this first one that I found the least bit concerning.
Defiance (Courier's Daughter) by C. J. Redwine
I didn't pick up this with high expectations, and I almost didn't get it at all because of the references to the "monster", but I actually really liked the story and will probably pick up the next one at some point. The heroin reminded me a lot of Katsa from Graceling, and while I wouldn't classify this one as great literature either, it was the perfect book this weekend when I was feeling the need to just zone out with an easy book!
The Book of Business Awesome / The Book of Business UnAwesome by Scott Stratten
I love Scott Stratten's casual writing style, which is a lot like his speaking style. He uses tons of stories and examples to illustrate his points, and I always walk away from reading his books excited about customer service and improving my own businesses. I didn't feel like this book was as groundbreaking as UnMarketing, which had a pretty profound impact on my businesses, but it was still an easy read, and I enjoyed both the examples of awesome and unawesome.
Books the Girls Finished
I really kind of lost track of the books the girls were reading over the last month. They both finished all of the Nancy Drew Notebooks I'd gotten, and our oldest's current obsession is American Girl Mysteries, while our 7.5 year old just finished reading A Lion to Guard Us by Clyde Robert Bulla and is petitioning me to buy The Beast of Lor next because we apparently don't have any other interesting books in our collection (!!!).
We're also launching into our read aloud list this month with Son of Charlemagne, James Herriot's Treasury of Inspirational Stories for Children, All of a Kind Family Downtown and The Jesus Storybook Bible: Every Story Whispers His Name.
On My Reading List for September
I didn't even attempt to finish Mansfield Park last month, but I would like to get it finished at some point (rather than relegating it to the "too long unread, not gonna happen" pile) and start on another Austen book!
Because I have a fairly big to-do list for September as we start our new school year and countdown the weeks until Jackson's arrival, I won't be setting any lofty reading goals, but I hope to make a little time for reading on the weekends so I don't completely burn out!
On my list for September:
Ender's Game: 1 by Orson Scott Card
Between Shades of Gray by Ruta Sepetys
Enclave (Enclave Series) by Ann Aguirre
I also can't wait for the release of Allegiant, the third book in the Divergent series, which is scheduled to be released on 10/22. Divergent has been my favorite series since The Hunger Games, and I always anticipate the third book in a trilogy with both excitement and regret, since I know once I read it, the series will be done!
Share Your Reading List
');

Mandi Ehman is the founder and publisher behind Life Your Way and the co-author of All in Good Time, as well as a wife and the homeschooling mom to four beautiful girls. She lives with her family on a little slice of heaven in wild, wonderful West Virginia and loves coffee, chocolate, easy meals, beautiful things and minimalist spaces.