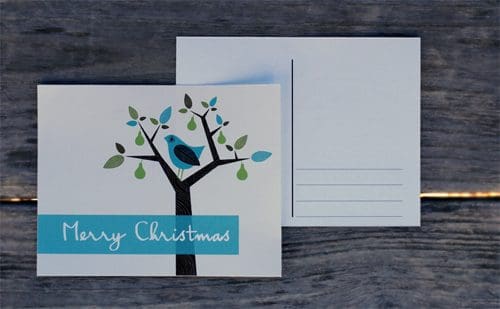 I love sending Christmas postcards rather than regular cards because the postage is less expensive and it saves me the extra step of stuffing and sealing envelopes!
This "partridge in a pear tree" design is my favorite, so this year I made a printable postcard to go with the gift tags and appreciation tags from last year.
These come four to a page, and the design goes all the way to the edge, so if your printer can print to the edge, you'll just need to cut along the middle lines. If your printer adds a margin around the outside, you should be able to easily cut that off using a portable paper cutter (I use mine all the time, and it's been well worth the $15 investment!) without losing any of the design itself.
You'll want to print these on 80 lb. paper (or higher) to be sure they're thick enough for mailing.
Click here to download or print these postcards.
Related Projects:
Join us as we celebrate 101 Days of Christmas with new DIY projects, gift ideas, traditions and more every day from now through Christmas!