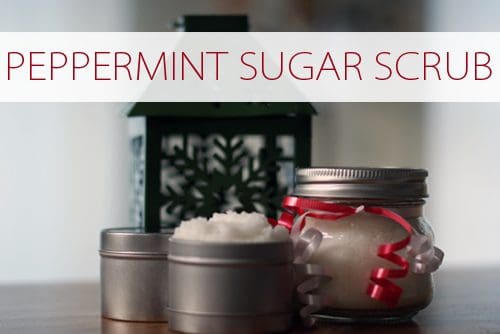 Sugar scrub is one of my very favorite luxury items, but I rarely use it even when I have it because…then it will be all gone! (Anyone else think this way? So silly!) However, I've always heard it was one of the easiest products to make at home, so this morning I whipped up a batch, and it truly is.
With just three ingredients, it takes less than 5 minutes to mix together, and you can customize it with any essential oil you want. For Christmas, I went with peppermint, of course!
I've seen some recipes that call for a drop or two of red food or gel dye, but I just couldn't bring myself to add dye to what is otherwise a very natural product. However, I really like the way the white scrub looks with the heavenly peppermint smell.
This is a sweet gift by itself or as part of a gift basket!
Ingredients:
2 cups sugar
1/3 cup light olive oil
6 drops peppermint essential oil
Directions:
Combine sugar, olive oil and peppermint essential oil in a bowl and mix until well combined.
Scoop into individual jars or containers and add a ribbon!
Variations:
Use almond or safflower oil instead, although light olive oil is the less expensive option.
Use another essential oil or a combination of oils to customize the scent.
Adapted from WeUseCoupons.com.
Related Projects:
Join us as we celebrate 101 Days of Christmas with new DIY projects, gift ideas, traditions and more every day from now through Christmas!