Any modern girl can look spectacular, regardless of the type of figure, weight, skin condition, or other circumstances. The world is confidently moving along the road of tolerance: we learn to accept and love ourselves as we are and not judge others for their appearance. The motto for the beauty and fashion industries has become: "Nobody is perfect, but we are all beautiful."
Today, solutions regularly appear to help a girl of various constitutions feel beautiful, confident, and stylish. It is easier than ever to create a trendy curvy image for the beautiful half of humanity. The main thing is to follow several rules that will help make the look harmonious. Read our top advice and get the perfect outfit. 
What things are curvy women recommended to give up?
Your task is to visually stretch the figure. Therefore, we refuse skirts above the knee, trousers to the middle of the calf, fashionable culottes, we don't buy short blouses and shirts. We put things away in tight and different levels of transparency. Clothes with bright prints on a plus-size frame will visually increase the volume.
Clothes that suit best
Straight-leg trousers in full-length dense fabrics, pencil skirts, and A-line mid-rise and high-rise will always save you. The length must be selected individually, taking into account the shape of the legs.
T-shirts and shirts need a straight cut. Cardigans are not oversized. When creating their fashionable wardrobe, plus-size women should choose loose jackets, coats of a semi-adjacent silhouette, and comfortable shoes with low heels as the top layer.
What is better to wear if the figure is an hourglass
If you have a full chest and hips, focus on the waist, as straight silhouettes make the figure heavier. Accentuate your attention with a belt, choose skirts and trousers with a high waist, and semi-fitted jackets.
Unless you have a narrow waist
Such a figure looks rectangular, and this type of physique is called that. Try adding volume to the top using layered kits, off-the-shoulder models. Dresses will suit you with a high waist.
Your figure has the largest volume at the waist
You, more than others, need various methods of stretching the figure. Wear straight-cut dresses without accents at the waist. The V-neck will play on lengthening, drawing attention to the neckline. Tapered trousers and a semi-fitted coat are your best friends, as well as a fashion trend for curvy plus-size women and everyone else. This is not the first season.
Full hips look massive against the background of your narrow shoulders
Holders of the triangle shape type lack volume at the top. Large collars, voluminous knitwear will help to create it. Choose straight skirts and high-rise trousers to balance the bottom of your figure.
You are lacking volume at the bottom of the figure
This is another triangle – inverted. Distract attention from the top, wear trousers with small tucks, skirts can be chosen with a flounce, color accents can also be carried down.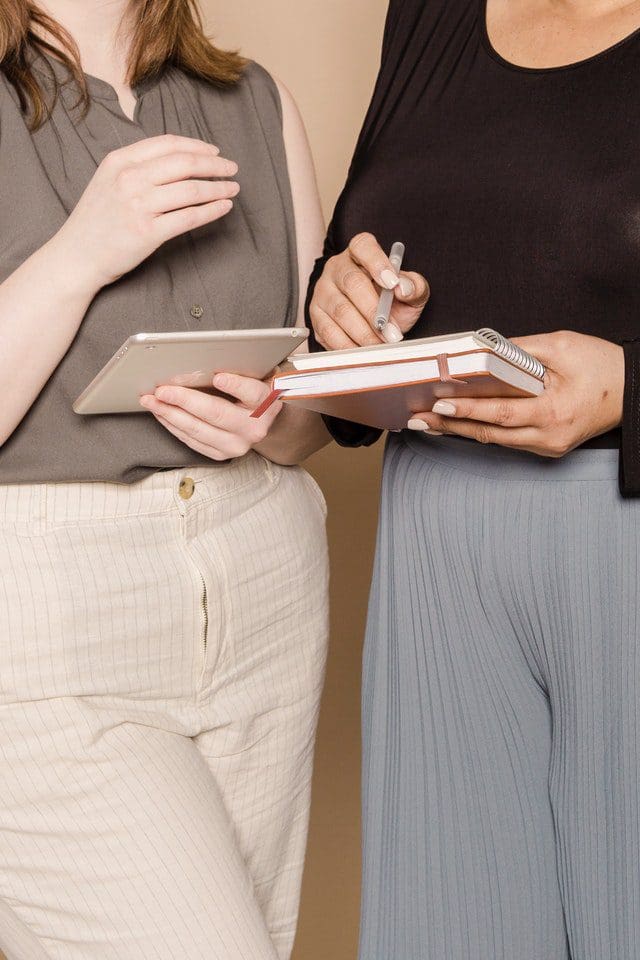 Should I choose a predominantly black color in clothes?
To begin with, black is not for everyone, especially the face. That being said, remember that bright colors are eye-catching. Therefore, use bright color accents with clothes and accessories where you want to attract attention. And wear things in muted colors, but not black, where you want to hide the excess. In addition, the combination with black looks more boring than the combination of color shades.
What accessories are recommended for curvy women
Regarding accessories, some rules are common to everyone.
If your look is complex enough, choose concise jewelry; if the set is calm, you can choose brighter and more noticeable accessories.
Choose medium-sized earrings and necklaces, the bracelet can be added larger, or you can create a combination of several thin bracelets – it will look easier.
Bags are also suitable for you, not small and not bulky, without locks, buckles, and pockets on top. A colorful bag that keeps its shape well is part of any basic wardrobe, and fashion for curvy plus-size women goes at the same price. The shape of the bag should be extended vertically.
Think ahead before buying
To understand what suits you and what doesn't, go to the store on an excursion. Without money! Now you are not shopping. You are going to better understand what your style and your ideal wardrobe should be. Try new cuts and a different cut. Go to a boutique that sells expensive and high-quality clothes – you don't have to buy something there, just try on things and evaluate how they fit you. Take a closer look at the details. Pay attention to the quality of the fittings and seams (the more stitches per 1 cm, the better). This will help you learn to distinguish well-tailored items when you go shopping.
In this article, we have provided some tips for choosing curvy plus-size outfits. Indeed, if you approach your choice wisely, you can create an excellent and effective wardrobe. Beautiful, comfortable clothes make women feel confident. We hope that our tips will help you make your choice of the best outfit!
Featured Photo by Omar Lopez on Unsplash