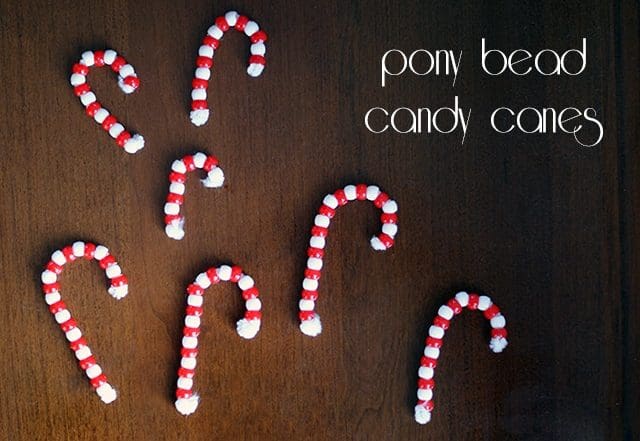 As a mom, I can often use the reminder that the simplest crafts are the ones that my girls enjoy the most, and this one is no exception.
Yesterday afternoon during quiet time, I pulled out the pipe cleaners and pony beads and asked my 5 year old if she could make candy canes. What followed was literally two hours of candy cane making, and it wasn't long before her 7- and 8-year-old sisters joined her!
Add a ribbon to these to make ornaments, tie them to a package with ribbon or buy hooks and suction cups to hang them in the windows. Or just make them for the fun of it!
Supplies:
red and white pony beads
red or white pipe cleaners
Directions:
Cut the pipe cleaners into halves or thirds. (You can do a big candy cane with a whole pipe cleaner, but it will be floppy!)
Roll the bottom several times to provide a stopper for the beads.
Thread the beads onto the pipe cleaner, alternating red and white beads.
When you get to the end, leave enough pipe cleaner to roll that end as a stopper as well.
Bend into the shape of a candy cane.
Projects from the archives:
Join us as we celebrate 101 Days of Christmas with new DIY projects, gift ideas, traditions and more every day from now through Christmas!