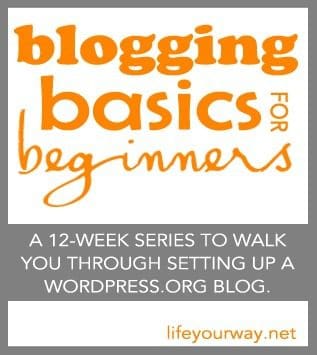 Blogging Basics for Beginners: A 12-Week Series to Walk You Through Setting Up a WordPress.org Blog takes your through the step-by-step process of setting up a new blog.
Through this series, we'll take you step-by-step through setting up a new blog, from choosing a domain name and setting up WordPress through HTML basics and creating an editorial calendar.
This series is for those of you who want to start a blog but are intimidated by the process, those who are ready to move their blog from WordPress.com or Blogger to self-hosted WordPress and those who already have a blog but still feel like they're floundering.
Tackle the tasks/lessons below one at a time and you'll have your blog up and running in no time!