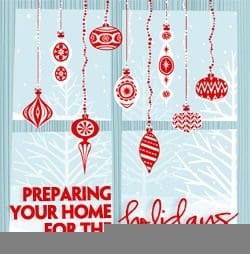 Tara from Deal Seeking Mom and I have teamed up to bring you a special series over the next two weeks called Preparing Your Home for the Holidays.
Join us as we clean and declutter so that we can fully enjoy the holiday season without being distracted by dirt and clutter. I'll be sharing tips for each room we cover, and Tara will be sharing her progress. In each post, we'll also include a printable checklist to help you declutter, clean, and maintain each room.
The holidays are quickly approaching, and none of us want to be stuck frantically cleaning before a family gathering or dealing with clutter as we try to make room for our holiday decorations.
Today, we're talking about bedrooms, specifically the master bedroom and guest rooms. For the first few years of our marriage, our master bedroom was the one room that never got any attention…in any of the four houses we lived in. We never decorated and always used it as a catch-all for extra things and items that didn't have a designated spot elsewhere. I don't think it's a coincidence that our marriage is better now and our room is actually decorated and kept uncluttered and clean. Not that having a neat bedroom has improved our marriage, but I think that, for us, prioritizing our room is a reflection of the effort we now put into our relationship.
Likewise, your guest room(s) should be peaceful and inviting, and even if your guest's bunk in the kids' rooms or on the couch, this should be your goal!
Declutter
You know I'm a fan of decluttering. I wouldn't call myself a minimalist, necessarily (most minimalists would probably laugh at me if I did), but keeping clutter to a minimum makes our life less stressful and easier to organize.
Here are some ideas to get you started as you declutter your bedrooms:
Clothes
Most people wear 20% of their wardrobe 80% of the time. If you don't like something in your closet, you probably won't ever like it, so pass it on.
Turn all of your hangars around backward and then when you wear something, hang it up the right way. You'll be able to quickly see what you never wear.
Make a list of any essentials you need for the holiday season so you can watch for sales on those items rather than having to rush out at the last minute to purchase them.
Pack away your seasonal wardrobe so that you have more space in your dresser and closet.
Flat surfaces
Scale back the number of knick-knacks and mementos you keep in your bedroom so that only your favorites are left.
Clean off flat surfaces and find homes for the things you tend to just set down.
Sort through books & magazines and give away any that you won't read again.
Storage
If you use your master bedroom as a catch-all for anything that doesn't have a home, sort through the piles and find homes for the items. Your bedroom should be a haven so that you can truly rest and recharge.
Empty the closet shelves and sort through any long-term storage.
In the guest room, organize and sort through your storage to create an inviting — rather than cluttered — space for your guests.
Cleaning:
Now is a great time for a deep cleaning because then you will only have to maintain your home through the busier months.
Wash mattress covers & replace any old or worn-out pillows.
Wash sheets and hang comforters outside to air out.
Dust ceiling fans & reverse fan direction.
Dust high shelves, window & door frames.
Dust dressers/TVs.
Dust shelves/knickknacks.
Clean blinds and shades.
Clean windows/mirrors/screens.
Clean under/behind the couch.
Wipe baseboards.
Vacuum and/or mop.
Maintaining:
I often get asked how we keep our home neat with four little ones. The key is that we literally clean up every single night before bed. We put things back where they belong, wipe down the counters, and vacuum/mop any areas that need it. Because we do this as a family, it's relatively painless and means that we wake up with a clean slate every day.
Don't let flat surfaces accumulate stuff; find a home for it.
Don't use your master bedroom as a catch-all.
Dust & clean glass/mirrors weekly.
Pass on any clothes that you haven't worn after 6-8 weeks unless they're special occasion items.
Click here to download or print the free printable checklist.
Be sure to stop by Deal Seeking Mom to see  Tara's progress in her bedroom!
Is your bedroom a haven, or does it get the short end of the stick? Do you have an inviting guest room?