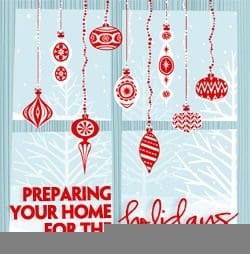 Tara from Deal Seeking Mom and I have teamed up to bring you a special series over the next two weeks called Preparing Your Home for the Holidays.
Join us as we clean and declutter so that we can fully enjoy the holiday season without being distracted by dirt and clutter. I'll be sharing tips for each room we cover, and Tara will be sharing her progress. In each post, we'll also include a printable checklist to help you declutter, clean, and maintain each room.
The holidays are quickly approaching, and none of us want to be stuck frantically cleaning before a family gathering or dealing with clutter as we try to make room for our holiday decorations.
Today, we're talking about the family/living room. It's the center of most homes (along with the kitchen), and even if you don't get a chance to do your whole home, this seems like one of the most important places to start.
Declutter
You know I'm a fan of decluttering. I wouldn't call myself a minimalist, necessarily (most minimalists would probably laugh at me if I did), but keeping clutter to a minimum makes our life less stressful and easier to organize.
Here are some ideas to get you started in your living/family room:
Media
Clean out video games, movies that you no longer watch or the kids have grown out of
Consider giving up the original cases in favor of CD books to save space
Get rid of extras – remotes, consoles, cords, etc.
Consider a basket or caddy for corralling remotes
Label cords with a label maker. Wrap up excess wire with a twisty tie. Plug plugs in relative to their location and make things you're likely to unplug easily accessible.
Toys
Designate an area for toys if you want to keep some in your family room. Use a basket, toy box or cabinet to store them so they're not just spread around the room.
Return extra toys to bedrooms/playrooms regularly.
Create sets you can rotate rather than trying to keep them all out at once.
Bookshelves & knickknacks
Clean off shelves and get rid of accumulated stuff that's been set down on flat surfaces over time.
Donate books that you've read but don't want to keep.
Read & donate extra magazines. If you have a ton to catch up on, limit yourself to three months of back issues.
Consider paring back the number of knickknacks you have. The less you keep out on shelves & tables, the less you have to dust.
Cleaning:
Now is a great time for a deep cleaning because then you will only have to maintain your home through the busier months.
Dust ceiling fans & reverse their direction to push the hot air down.
Dust high shelves, window & door frames.
Dust your entertainment center, TV, and electronics.
Dust shelves and knickknacks.
Clean the windows, mirrors, TV screens.
Spot clean your upholstery & carpet.
Clean under couch cushions and under the couch.
Wipe baseboards.
Vacuum and/or mop.
Maintaining:
I often get asked how we keep our home neat with four little ones. The key is that we literally clean up every single night before bed. We put things back where they belong, wipe down the counters and vacuum/mop any areas that need it. Because we do this as a family, it's relatively painless and means that we wake up with a clean slate every day.
That's not to say it's not a mess during the day, because it is! But it's less overwhelming because we know it will be cleaned up by bedtime.
Clean up toys every day (once or twice a day) so that the clutter doesn't accumulate over time.
Don't let flat surfaces accumulate stuff. Find a home for everything.
Dust & clean glass/mirrors weekly.
Click here to download or print the free printable checklist.
Be sure to stop by Deal Seeking Mom to see Tara's progress in today in her living room!
What is the biggest source of clutter in your family/living room?