Window banners are among my favorite decorations for any occasion because they add such a festive feel to our home and are not expensive or difficult to make. From these Truth in the Tinsel ornaments and our 12 Days of Christmas to banners for birthdays and Valentine's Day, we often hang banners in our windows, and today I have a printable Merry Christmas banner to share with you!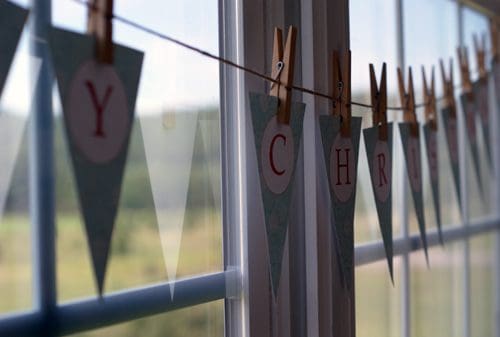 Simply print out the banner and cut out each pennant flag. Hang twine or ribbon across the windows (I usually crack the windows and slide the string right through the opening and then close and lock it to hold the ends tight). Use clothespins to attach each flag to the ribbon.
Or punch holes in the upper corners of each flag and thread a ribbon through the front of each flag before securing the ends in place.
Click here to download or print the "Merry Christmas" banner.
Related Projects:
Join us as we celebrate 101 Days of Christmas with new DIY projects, gift ideas, traditions and more every day from now through Christmas!