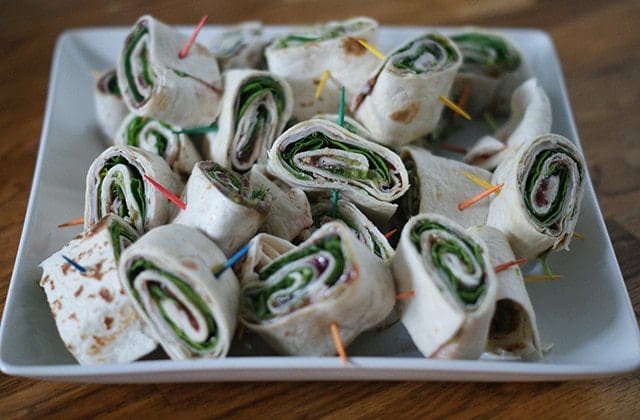 The thing I have struggled with the most, both from a budget and a healthy eating perspective, is meals on the go.
Because of the distance we live from "town", we end up eating in the car several times a week — after a morning field trip, before an evening activity, etc. It's pretty much all I can do to get everybody out of the house on time for these various activities, let alone packing a meal for each of us to eat while we drive. Sometimes we'll do PB&J sandwiches, but let's face it: those get old pretty fast!
Our oldest daughter is obsessed with tortilla wraps, but our other girls don't especially like the combinations she comes up with, so I started searching for new recipes to try.
I found a few recipes, and we began experimenting, but so far this one is our favorite. Our youngest daughter is not a fan of baby spinach (which she calls "weaves"), but everybody else loves these. In fact, our 8-year-old, who has been the most picky lately, must have told me three times how much she liked them the first time I made them!
These are perfect for the road. I usually fill a sandwich bag with some pretzels or chips and then add a few sections of the turkey wrap on top. They're pretty filling, a great change from plain ol' sandwiches and packed full of nutrients!

Raspberry Spinach Turkey Wraps
Ingredients
For each wrap:
flour tortilla
cream cheese, softened
raspberry jelly (we use all fruit, no-sugar added jelly)
avocado, mashed
4-5 deli turkey slices
handful of baby spinach
Directions
Spread a layer of cream cheese on the tortilla, followed by a layer of jelly and then a layer of avocado. If you're making quite a few, you could always mix the cream cheese, jelly and avocado together (1-2 tablespoons of each per tortilla) so that you only have to spread one layer.
Next, distribute the turkey slices evenly across the tortilla. Spread out the baby spinach on top.
Roll tightly. Slice into 1-2" pieces and secure with a toothpick. Refrigerate until ready to serve.
What's your favorite on-the-go recipe?