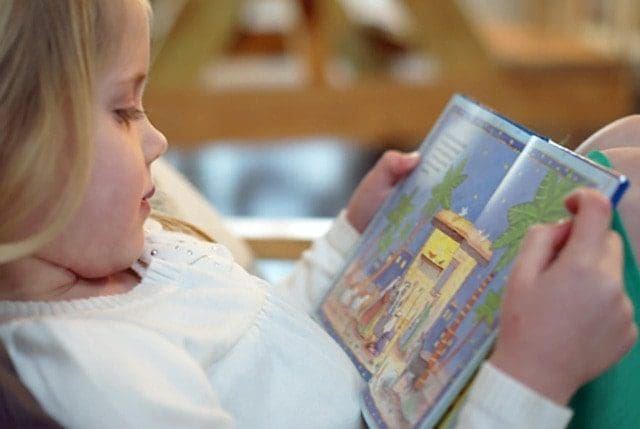 And suddenly there was with the angel
a multitude of the heavenly host praising God, and saying,
Glory to God in the highest, and on earth peace, good will toward men.
Luke 2:13-14

I love all of the sparkly parts of Christmas—the magic and the tinsel, the joy and the giving, all of it! But in the midst of family get-togethers and Christmas crafts and baking marathons, we do our best to celebrate the true meaning of Christmas: the gift that God sent from heaven in the form of a baby boy.
And each year I share this post on Christmas Eve, not because it's earth shattering or Pinterest worthy but because I think we can all use the reminder to step back and slow down.
Sometime tomorrow—whether it's first thing in the morning or later in the evening, gathered around the tree or cuddling on the couch, while eating breakfast or getting ready for bed—I encourage you to take some time to read the Christmas story together as a family.
Found in Luke 2 in the Bible, it's the story of a Savior's birth…and it wasn't at all what God's people expected. The Savior and King all Creation had been waiting for arrived not on horseback as a mighty warrior, but was wrapped in swaddling cloths and laid in a manger. His birth wasn't announced with royal declarations, but with the singing of heavenly hosts inviting lowly shepherds to come see.
In that moment, with the birth of a tiny baby, the course of humankind was changed. That baby would grow up and choose to make the ultimate sacrifice—death on a cross—for you and for me.
Pretty awe-inspiring stuff!
And with that, we come to the end of our 101 Days of Christmas projects, but watch for a fun ornament journal and ideas for keeping the Christmas spirit alive all year after Christmas!