December is dreamy throughout the globe. But with the Smoky Mountain backdrop bonus, Pigeon Forge in December is mesmerizing.
The peaks of these gorgeous mountains are artistically dusted with a layer of frost. It makes for a picturesque scene as you stroll down the Parkway. Millions of lights delicately decorate the trees and line the streets. And the events are a dose of holiday cheer for all ages.
What's best about being in Pigeon Forge in December is that everything is open and running as usual! So, if you've put Pigeon Forge on your list of places to visit this December, we've got a few reasons you won't regret it.
The Weather is a Delight:
The weather in Pigeon Forge is lovely in December. The average high is a comfortable 54 degrees, and the average low is a chilly 35 degrees. So, you can enjoy all the December activities without feeling overheated.
And if you're coming from a colder climate, the weather in Pigeon Forge is sure to feel balmy.
Although Pigeon Forge only gets about 6 inches of snow annually, the nearby Great Smoky Mountains National Park gets around 5 feet of snow! So, if you're hoping to snap a few winter wonderland photos, the Smokys is the place to go.
Beautiful Accommodations:
Pigeon Forge is home to a wide variety of accommodations. And in December, many of these places are decked out for the holidays. The cabins near Pigeon Forge, Parkway, are one of the most popular places to stay. 
These cabins offer all the classic cabin amenities. There are cozy fireplaces to cuddle next to with your partner. Fully-equipped kitchens, so you can fix a delicious Christmas meal. And, of course, private hot tubs to relax in after a busy day of exploring Pigeon Forge. Most of these are a short distance from the Pigeon Forge trolley stops, so you can get around town without driving.
Christmas Lights:
One of the biggest draws to Pigeon Forge in December is the incredible Christmas lights. From the trees to the buildings and parks, everywhere you look, sparkling with holiday cheer.
The Island in Pigeon Forge is where you'll find some of the best lights. It is an amazing place to shop, stroll around, and grab a bite to eat.
Another can't-miss spot for Christmas lights is the Gatlinburg SkyLift Park. The views of Gatlinburg and the Smoky Mountains are breathtaking any time of year. But at Christmastime, it is truly a sight to behold when the trees and mountains are blanketed in lights.
The lights are up and twinkling from early November till late February. So you can enjoy them even if you cannot make it to Pigeon Forge in December.
Some iconic displays happen at:
The Trolley Station

The Old Mill

The Christmas Place
Unforgettable Christmas Shows:
Pigeon Forge has a reputation for being the live entertainment capital of the south. Whether you want to groove along to some tunes or laugh till you cry, there's a show for everyone in Pigeon Forge.
A few of our favorite Christmas shows are:
Dolly Parton's Smoky Mountain Adventures

The Miracle of Christmas

A Charlie Brown Christmas

The Great Smoky Mountain Murder Mystery Dinner Show
We recommend getting your tickets to these shows in advance. They tend to fill up quickly, especially around Christmas time.
Tour the Best Christmas Attractions:
Christmas spirit oozes out of every nook and cranny in Pigeon Forge. It feels like Santa Claus himself is running the show! So, we have a few suggestions for stepping out of your cabin to witness the best Christmas attractions.
Anakeesta is a family-friendly outdoor adventure park with an enchanted forest and twinkling lights. You can ride the Chondola up to the top of Legacy Mountain for spectacular views. Or, take a leisurely stroll down Firefly Village.
The Titanic Museum is decked out with a giant Christmas tree, decorated wreaths, and more. Each room is redecorated to look like it did on the fateful night of April 14th, 1912. And, of course, you can't tour the museum without getting a photo in front of the giant Titanic replica.
The Island in Pigeon Forge has an outdoor ice-skating rink, live music, and a 65-foot Christmas tree. It's the perfect place to spend an afternoon or evening in Pigeon Forge.
The Christmas Place is the largest year-round Christmas store in the south. The store is full of festive decorations. It's a must-see for any holiday lover.
Experience an Epic Christmas Parade: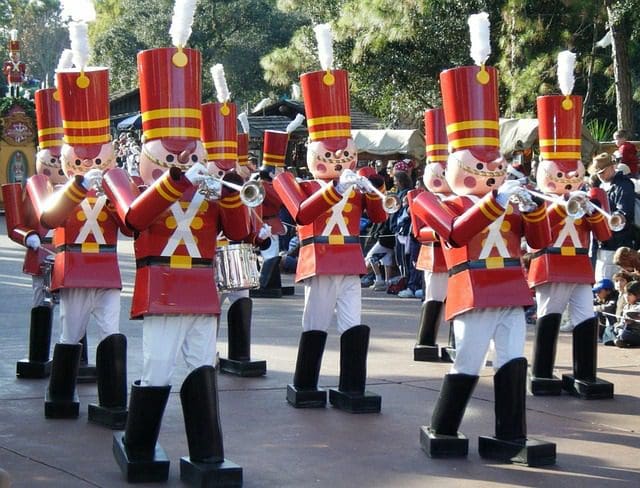 One of the most memorable Christmas events in Pigeon Forge is the annual Christmas Parade. Every year, on the first Friday of December, Santa Claus makes his grand entrance into town.
The parade features marching bands, dance groups, enormous floats, and lots of candy! It's just perfect.
The parade starts at 7.30 pm. But we recommend getting there early to grab a spot. It's a popular event, so the closer you are to the starting point, the better.
Head to the National Park for a Winter Wonderland:
The Great Smoky Mountains National Park is beautiful to explore any time of year. But there's something special about seeing it in the winter.
The Smoky Mountains transform into a winter wonderland when the snow starts to fall. You can go hiking, picnicking, biking, and wildlife watching. Just be sure to dress warmly! Build snowmen, have snowball fights, or just enjoy the silence.
It's perfect for all those who want to take a break from the abuzz Parkway.
Exciting New Year's Eve Celebration:
Pigeon Forge knows how to ring in the new year!
There's a huge New Year's Eve celebration at The Island in Pigeon Forge. The event features live music, a giant ball drop, and spectacular fireworks show. You can also enjoy a delicious buffet dinner at one of the Island restaurants.
Or, if you're looking for a more low-key way to celebrate, check out Pigeon Forge's first-ever New Year's Eve Wine Walk. You'll get a souvenir wine glass and have the opportunity to taste wines from all over the world.
Final Words:
The holiday season is a magical time to be in Pigeon Forge. The chilly winds, the sparkling lights, and the joyful atmosphere make it an exceptional place to be. Whether you wish to spend your holidays snuggled up in a comfortable cabin or shop till you drop, Pigeon Forge is the perfect destination for you. The food is plentiful, the entertainment is top-notch, and the memories will last a lifetime. So, pull out your travel planners and book your trip to Pigeon Forge today! You won't regret it.
Featured Photo by Elina Fairytale: https://www.pexels.com/