Looking for a fun, easy treat for an advent activity, school Christmas party or afternoon snack? Rice Krispies treats are one of our favorite easy treats, and it only takes a couple extra minutes to make them nice and Christmas-y!
The great thing about Rice Krispies treats is that there are so many variations. You could also decorate them with green icing, mix the sprinkles right into the marshmallow mix rather than sprinkling on top, or dye the marshmallows bright green.
They also make an easy gluten-free/casein-free treat with just a few modifications. Use gluten-free Rice Krispies (which taste exactly like regular Rice Krispies!) and use coconut oil instead of butter. You may need to use extra coconut oil to get the right consistency, so keep that on hand while you melt the marshmallows.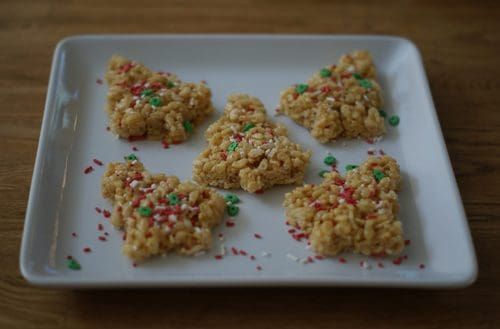 Ingredients:
3 tablespoons butter
1 package regular marshmallows (about 40)
6 cups Rice Krispies
cooking spray
food dye, Christmas sprinkles, icing (optional)
Directions:
In a medium saucepan, melt the butter on medium-low.
Add marshmallows and stir frequently until melted. If using food dye, add it now. Stir in Rice Krispies. Add sprinkles now if you want them mixed in your treats.
Line a bar pan or cookie sheet with wax or parchment paper and spread Rice Krispies treat mixture evenly across the surface. Add additional sprinkles now and press down slightly.
Spray a cookie cutter with oil and begin cutting out your shapes. For an even sweeter treat, outline with icing.
Join us as we celebrate 101 Days of Christmas with new DIY projects, gift ideas, traditions and more every day from now through Christmas!