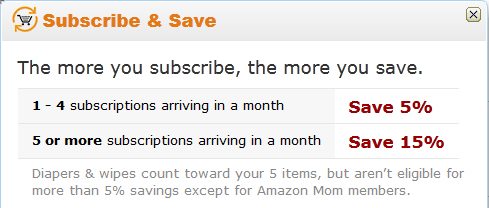 Amazon recently made a change to the Subscribe & Save program that has the potential to save you a lot of money on the things you regularly buy!
With the Subscribe & Save program, you save 5% off the regular price of any products you order. Subscribe & Save orders are all shipped together on a specific date each month, and you can adjust that date, skip shipments or move shipments up as needed.
Now, however, when you have 5 or more subscription orders arriving in one month, you'll save 15% off instead of the standard 5%!
That's great news because it means you can plan to stock up on certain things all at once and get that great discount AND have them delivered right to your door.
I actually went in and compared prices on some of our regular purchases — from groceries to personal care products to household items — and was able to place an order for 6 of the items that we'd be buying anyway…but at a deep discount.
Here are some of my favorite deals this week:
Quilted Northern Ultra Plush Double Rolls, 48 Count, $19.35
San Francisco Bay K-Cups, Breakfast Blend, 80 Count, $24.65
Angel Soft Double Rolls, 48 Count, $18.24
Tom's of Maine Fluoride Free Children's Toothpaste, $7.85
Note that the 15% discount won't show up until you have 5 orders placed, but you can check the status of your orders at any time under Manage Your Subscribe & Save Items.
Be sure to visit Jungle Deals & Steals for new Amazon.com deals every day! Or subscribe by email or in a feed reader so you don't miss any deals.