Have a senior-aged loved one who still desires to dress to the nines? Help them age gracefully and stay in vogue with sophisticated senior style while giving them the freedom and mobility they need. Here are five brands that make aging look elegant — from adaptive clothing that keeps them comfy and chic to wearable devices to keep them safe and hip.
Clothing
For seniors with limited mobility, clothing can be tricky. Whether due to arthritis or using a wheelchair, getting dressed can be a daily challenge. Fortunately, there are brands out there that create smartly designed garments explicitly intended for seniors and aging loved ones while still looking smart, too.  
#1. Silverts 
Silverts offers innovative senior clothing that provides stylish, safer designs for both caregivers and loved ones. Discover a wide range of casual, classy, and trendy clothes for senior women and men to wear around the home or out and about with family. Silverts even offers adaptive clothing for those who use wheelchairs or loved ones with Alzheimer's, arthritis, or diabetes. Each adaptive bundle or kit is thoughtfully put together to include garments and footwear explicitly designed to help alleviate the difficulties and make dressing in style much more manageable.   
Walking Sticks and Canes
Canes and walking sticks don't have to be dull and boring. Today, you can find very fashionable brands that offer support for disabled seniors who still want to look stylish out and about the town. Take a look at these brands for some pretty chic and fun sticks and canes. 
#2. Fashionable Canes
Fashionable Canes is your one-stop-shop for everything related to walking sticks and canes. Discover different cane styles such as folding canes and quad base support canes, complete with printed patterns and splashes of color — not the basic black look we've come to accept. Fashionable Canes also carries a wide selection of brass and silver cane handles in carved motifs and animal shapes for a unique, luxe look. They even have cane handles with beautiful pearlescent materials and rhinestone trim. 
Eyewear and Glasses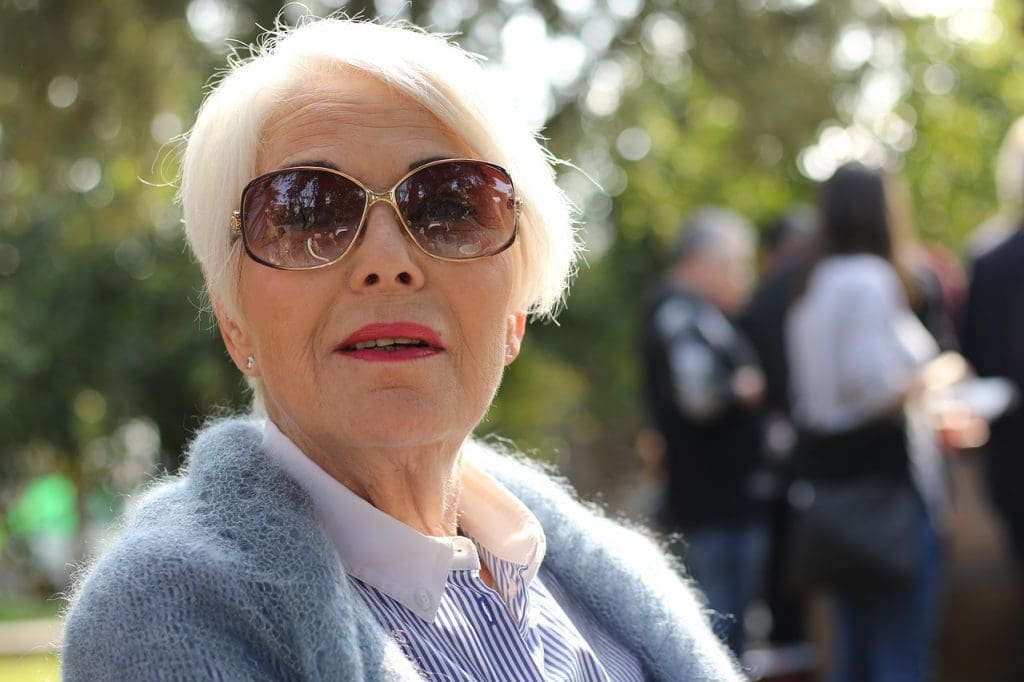 As we age, our eyes start to lose their focus on nearby objects like books and menus. So having a stylish pair of prescription eyewear and reading glasses is a must for many seniors. There are even progressive lenses for glasses that allow you to no longer need a separate pair of readers. Whether you choose to look more youthful in a pair of classic black cat-eye frames or choose some old-school cool oversized frames, the good news is that there are many chic styles out there these days.
#3. Warby Parker
Warby Parker offers eyewear for all ages. With so many styles and shapes of glasses available, there is something for everyone! Plus, Warby Parker eyewear offers lots of styles that help keep aging elegantly. 
In addition, Warby Parker makes ordering glasses for seniors and aging loved ones super easy. With their home try-on program, you don't even have to leave home. All you do is simply pick out five pairs of frames from their online site and have them mailed to you to try for five days. When you choose one you prefer, simply send all the frames back, and Warby Parker will install a lens prescription and mail back your preferred frames. 
Watches
Wearable technology isn't just a newfangled idea intended for young consumers. Older adults are strapping on these devices and elevating their style while keeping track of their overall health. A 2015 study by AARP found that 45 percent of adults 50 years or older chose a wearable activity and sleep tracking device to encourage them to live more healthy, which increased their motivation.
Wearable smartwatches and similar devices also give caretakers and family members relief knowing that their loved ones are being monitored. You can even find smartwatches that can detect falls and some with emergency monitoring, alerting for help when needed. So these types of wearable devices not only give seniors an elevated, cutting-edge style but give family members peace of mind. And, in turn, this can provide the wearer with more freedom and independence.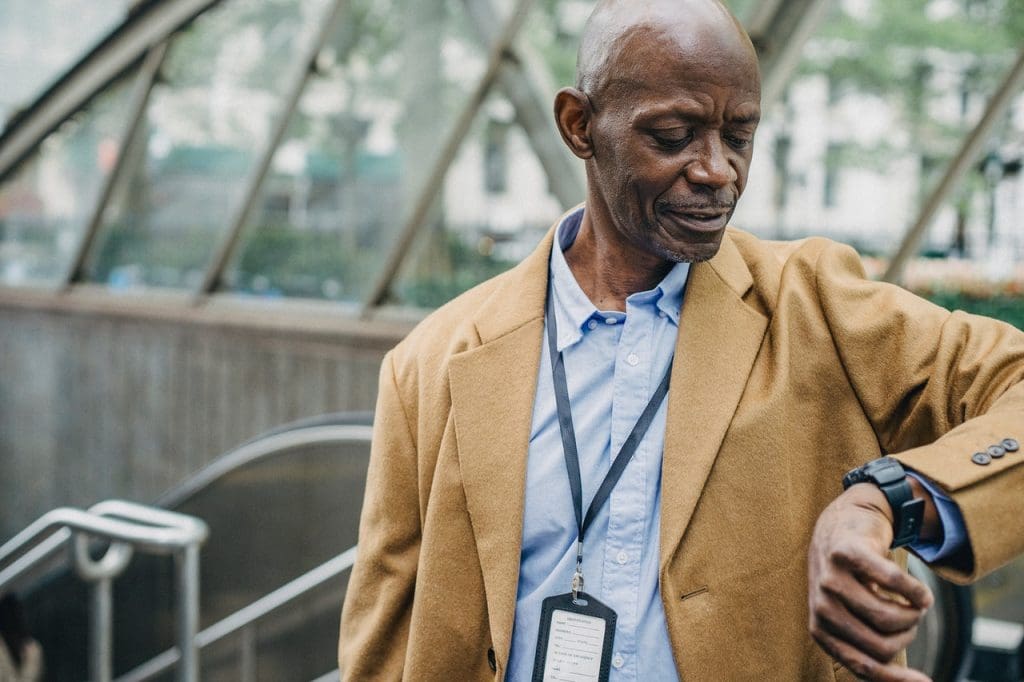 #4. Apple Watch
Monitor heart rates while looking hip and modern with the Apple Watch. Adding the Apple Watch to everyday ensembles can help seniors not only look contemporary and feel sophisticated, but they can also detect unusual or abnormal heartbeats and monitor heart health, sending alerts. Ultimately, this handy smartwatch device can help detect irregular heart rhythms early, allowing you or senior loved ones to consult a doctor before symptoms increase. Aside from heart monitorization, the Apple Watch also tracks physical activity, blood pressure, and even sleep cycles, prioritizing health while looking cool, too. 
Most notably, the Apple Watch also has an emergency button that sends for emergency services and alerts emergency contacts immediately. If you or loved ones have age-related heart conditions (or even experience accidental falls at home), an Apple Watch could be a real lifesaver!  
#5. Fitbit
Like the Apple Watch, Fitbit smartwatches offer a digital watch to monitor health while staying sleek and stylish. Designed to monitor heart health, in particular, this watch device is a great fashion accessory for seniors and loved ones with heart conditions. With multiple styles to choose from and versatile, changeable straps and accessories for Fitbit smartwatches, this device allows anyone who wears it to represent their individuality and character, too. 
Look for a Fitbit with a built-in heart monitor to track heart rates during walks around the neighborhood or playing with the grandkids. Heart monitoring aside, Fitbit also tracks everyday activities and even sleep cycles, ensuring you get the required physical exercise and needed rest.
Aging gracefully is easier than you would think. Whether you or a loved one is restricted with mobility issues or in need of new eyewear, these five brands make aging look elegant — effortlessly! Discover each of these brands today to create a fashionable and functional wardrobe with seniors in mind. 
Featured Image by Andrea Hamilton from Pixabay