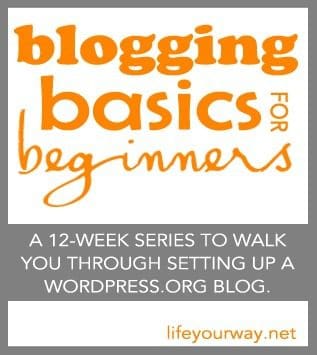 Blogging Basics for Beginners: A 12-Week Series to Walk You Through Setting Up a WordPress.org Blog will run every Thursday from August 30th through November 15th. Click here for all of the posts in the series.
Today we're talking about setting up a Google Analytics account to track your traffic, audience demographics and more, but before we get to how to set it up, a word of caution:
Tracking your traffic, learning about your audience and watching for trends are important parts of developing strategy for your blog and understanding what works and what doesn't work. That said, it's so easy to get caught up in your stats and either let it suck up precious work time that should be spent writing and brainstorming or become discouraged if things aren't growing as fast as you'd like them to!
I recommend setting up Google Analytics from the start so that you can begin tracking that information right away, but it's important to be realistic about your expectations and to consciously limit the amount of time you spend focused on stats.
With that out of the way, let's get started:
To get started, go to google.com/analytics and clickSign up. If you're already signed into your Google account, your Analytics account will automatically be associated with that account. Otherwise, you'll be directed to a login screen.
Note: If you have multiple Google accounts and want your Analytics associated with a specific account, be sure to sign out of Google before you click the Sign up button.
On the sign up page, you'll fill in your blog/website name and URL, select a category and time zone, create a name for your account and grant Google data sharing permissions.
Once you click Get Tracking ID, you'll be prompted to read and accept the Google Analytics term of service and then directed to your new account.
The options on this account page are really for advanced users, so to start, you'll just want to copy the tracking code so that you can paste it into your theme and begin tracking visitors to your site.
Some themes, like Genesis and Thesis, have specific options for entering your tracking code. In other themes, like Twenty Eleven and Twenty Twelve, you'll need to actually edit your theme files, but it's not difficult!
Log into your WordPress dashboard and click Appearance on the left-side menu and then choose Editor, which will open a list of all of your theme files.
On the right side of that page, select Footer (footer.php) and scroll down to the bottom of that file. You'll paste the tracking code right before </body></html>.
That's it!
So now that it's set up, what do you do with that information?
I'm not an advanced Google Analytics user by any stretch, so I just use a few basic features:
The Audience Overview on the Standard Reporting dashboard gives me a quick overview (defaulting to the past 30 days) of the number of visits, the number of unique visitors, pageviews, the number of pages per visit, the average length of each visit, bounce rate (how many people leave the site from the first page they visit) and the percentage of new visitors.
I also like to drill down to see where my traffic is coming from by clicking on Traffic Sources on the left-side menu and then Sources -> All Traffic. This gives me a list of referrers, starting with the highest number of visitors. You can then click on any name on that report to see the trends from that referral source (i.e., did they send me traffic all month, or did I just get a burst of traffic from them yesterday?).
Another area where I like to drill down is Content, which gives me an idea of our most popular posts, by selecting Site Content -> All Pages. Like Traffic Sources, this page lists your most popular posts in order of popularity, and you can spot trends in their popularity by clicking on any post title to see the traffic for that particular post.
It's important not to be obsessed by your stats (because you can easily lose your writing voice or your vision if you focus too much on the stats), but I also think it's important — if you want to be a professional blogger — to regularly check and evaluate stats so you can learn what works and what doesn't and improve your strategy as you go!