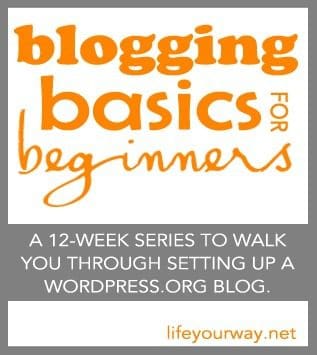 Blogging Basics for Beginners: A 12-Week Series to Walk You Through Setting Up a WordPress.org Blog will run every Thursday from August 30th through November 15th. Click here for all of the posts in the series.
Now that we have our blog installed and our theme selected as well as any customizations, we want to put in the place the ability for the readers to subscribe to blog posts. Many people use RSS readers while others enjoy getting the latest content delivered directly to their email address.
While all WordPress blogs automatically have an RSS feed established, there is a better way to manage that feed and it is through the use of Feedburner. (Keep in mind that since Feedburner is owned by Google, it does require a Gmail address in order to use it.)
Editor's note: There is some concern lately that Google will be shutting down Feedburner soon because they have said they won't be investing any more in Feedburner as far as future development. However, I personally believe that it will be a while before this happens and that Feedburner is still the best free feed service available.
Once you're ready to set up your RSS feed, the first thing you need to do is grab your RSS link. Go to your blog, and copy the link from the main page of the blog, which will likely be YourURLHere.com/feed.
Once you're ready to go, go to Feedburner.com and it will take you to the sign in page. Enter your Google info and you'll get logged in. If this is your first time using this service, you won't see any feeds. Find the space where you can enter your feed URL and either paste it in (assuming you copied it) or type it in. Click Next.
On the next page, check to make sure the title of the feed is correct. Feedburner capitalizes the feed URL. While it has no effect on whether or not people will find it, I'd make it lowercase just for the uniformity. Take note of the name at the end of the feed. In this case it is "worldofblogs" as that will be necessary for later when we go to publish the details on the blog. Click Next.
It will now tell you is all set up. Click Next.
On this screen go ahead and put a check in the box for Clickthroughs (this will track any links back to your site through the feed) and the box that allows Feedburner to measure additional stats. Click Next.
On the next screen, click the Publicize tab. In the next few screens, we are going to set up the email functionality.
Click the Email Subscriptions link.
Go ahead and activate the service as it is not active by default.
Once it is activated, click on the Communication Preferences option. Here you can customize the info needed that will go out when somebody subscribes to your blog via the email option.
Now that you have that all set up, it's time to go back to your blog dashboard and go the Plugins section. Click Add New and search for the following: Subscribe/Connect/Follow.
This will bring up the Subscribe/Connect/Follow Widget plugin. Go ahead and install it and then activate it.
From there go back the main WordPress dashboard and then go to Appearance > Widgets. You will now see the Subscribe/Connect/Follow Widget. Click and drag that to your sidebar placing where you think it would best (but closer to the top is better).
Once you have dragged it over, expand it so that you can see all of the options.
Go ahead and change the options such as the title, choosing buttons or text and whether links will open in the same window or not. Also, in the drop down menu, choose the two Feedburner options and enter in the feed name you chose when getting everything set up. Click save.
Check out your blog and see the new buttons (or text) there that will allow people to subscribe your blog!
From time to time, you can go to Feedburner.com and check out your statistics as to how many subscribers you have, who's clicking through to your site and if people are clicking external links you publish in blog posts. Good luck!