Although I have a definite sweet tooth, I'm finding more and more that it's the cookies that aren't overly sweet that are my favorites, and shortbread is no exception. With dozens of possible varieties, there's a flavor combination for everybody, and I was inspired by this simple shortbread recipe (and these delicious gingered orange shortbread cookies that arrived in my mailbox a couple of Christmases ago!) to try shortbread myself.
My baby sister, mom and I spent a full day last week working on the next month's worth of projects for the 101 Days of Christmas series, and these were on our list. I completely spaced out and forgot to buy jam for these (doesn't raspberry sound good?), and all we had on hand was low-sugar grape jelly. I'm really not a fan of grape jelly at all, so I wasn't sure what to expect, but as it turns out, I really liked them anyway.
Ours ended up a little messy since it was our first time making thumbprint cookies, but any cookie with a jam filling screams Christmas to me, and I think these would make a great addition to any cookie tin or basket!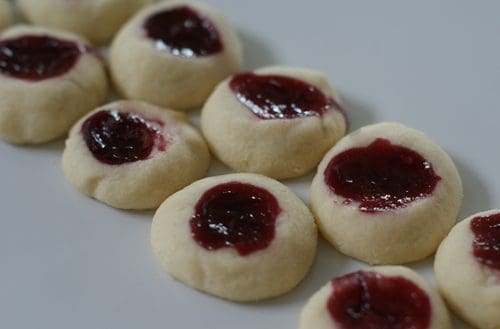 Ingredients:
1 1⁄2 cups unsalted butter, softened
1 cup sugar
1 teaspoon pure vanilla extract
3 1⁄2cups all-purpose flour
1⁄4 teaspoon salt
jam or jelly, any flavor
Directions:
Mix butter and sugar. Add vanilla.
In a medium bowl, mix flour and salt.
Add flour mixture to butter/sugar mixture and mix on low speed until the dough starts to hold together.
Roll shortbread into 1-inch balls and space evenly on your cookie sheet. Using your thumb, carefully make a small indentation in the top of each cookie. Carefully add 1/4 teaspoon of jam or jelly to each indentation.
Chill for 30 minutes.
In the meantime, preheat oven to 350 degrees F. When done chilling, bake for 10-12 minutes until the cookies begin to brown on the bottom.
Click here to add this recipe to your Plan to Eat account.
Join us as we celebrate 101 Days of Christmas with new DIY projects, gift ideas, traditions and more every day from now through Christmas!