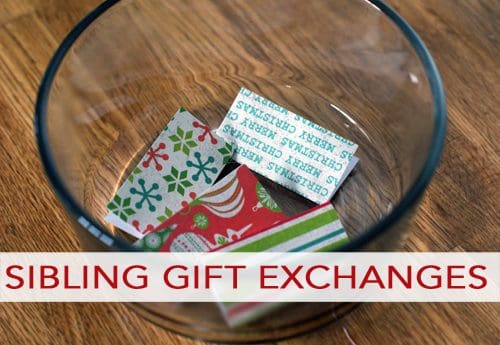 One of our greatest hopes for our girls at Christmas is that they'll learn the joy of giving gifts rather than just focusing on receiving them. Thankfully, they do get more and more excited each year about the idea of choosing the perfect gift for someone — whether it's a friend, Sunday school teacher or one of their sisters.
To cultivate this in them, we started a sibling gift exchange last year, and it was a lot of fun to see their enthusiasm for choosing, wrapping and giving the gifts!
Here are a few ideas for conducting a sibling gift exchange in a meaningful way:
Draw Names from a Hat
Because it would be cost-prohibitive to have all four of our girls buy gifts for each of her sisters,  last year we had them each a draw a name from a hat (er, bowl). We waited until just a few days before Christmas and encouraged them not to tell each other who they were buying for, and they really enjoyed every part of the gift exchange — drawing the names and giggling over the secret, browsing the aisles at Target for the perfect gift, wrapping each present and proudly presenting their gifts to each other on Christmas morning!
Make Gifts for Everyone
For various reasons — most notably lack of time and not wanting the gift exchange to create additional stress for our holiday — we chose to take the girls shopping for gifts for their sisters last year. However, as they get older and more independent in their crafts, I can see us moving to a homemade gift exchange instead, where they could even make gifts for all of their sisters instead of just picking one name out of a hat.
Exchange Gifts on Christmas Eve
Our Christmas Eve tradition includes opening new Christmas pajamas before bed, but I love the idea of allowing the girls to exchange their gifts on Christmas Eve as well so that they can really appreciate and treasure those gifts and not get distracted by the other shiny presents under the tree.
For us, a sibling gift exchange has been another great way to take the focus off getting presents and put it on giving instead!
I'd love to hear your sibling gift exchange traditions as well — the ones you do with your kids now or those from your own childhood. Share them in the comments!
Related Projects:
Join us as we celebrate 101 Days of Christmas with new DIY projects, gift ideas, traditions and more every day from now through Christmas!