Having a camper or RV is a thing of pride. However, most of the RVs sold have the same kind of dull décor. Most manufacturers focus on beige, brown, and grey colors. This is probably because they do not want anyone to feel offended by the usage of bright colors.
But you do not have to stop yourself from decorating your newly bought RV. There are specific brilliant ideas you can put in place. The result will be a comfortable and beautiful-looking RV that impresses your guests too. 
Here are some simple tips you can now use to decorate your RV.
Turn on lights
Nothing looks better than a perfectly lit RV. The lights you get with the RV are not as perfect looking. You could add LED lights on awnings to make the camper look like a dream come true. There are some other lighting options that you could choose from.
Fairy lights- They add a sense of style to your camper. You can add them to the head of the bed or near the slide to change the ambiance to soothing.

Battery-operated candles- If you want to use a simplistic method, try battery-operated candles. Plus, there is no danger of fire accidents.

Rope lights- Find it hard to locate things in your cabinet. Try using rope lights. Just string them behind the cabinet and put them on when required.
Add dabs of color
People who buy an RV often complain about the lack of color. However, you don't need to add loads of color-coordinating items. You could just start with a colorful blanket on the couch. Or new covers on the cushions would do the trick. Apart from that, a colorful rug or new pillow on the bed can make your RV a gorgeous one.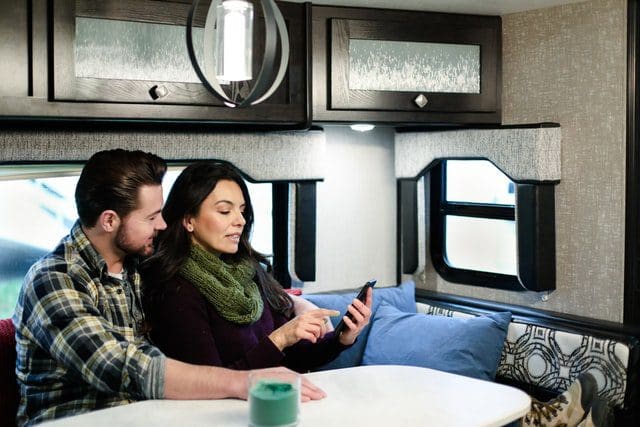 Hang wall décor
Another area where you could work is the walls. Mostly your walls would be either brown or beige. Use the following ideas to add a little bit of sparkle to them.
Maps- If you have an RV, it means you love traveling. Depict that by pasting some maps on your walls. You could also mark the places you visited and where you intend to go next. If required, get a wallpaper of Maps; it adds a flavor to your RV.

Pennant banners- They are a perfect option, and many users put them in their RVs. You could string one over your wall or across the wall over your slide.

Decals- Sometimes, a decal is just what your drab wall requires. They are perfect as they do not need nails to hang.

Photos- Your walls could be the place where you share your memories. Add photos of your last trips or any memories you have shared with your family in the past.
Display souvenirs 
We all collect tokens or souvenirs while traveling. There is no harm in displaying them. Instead of putting showpieces that do not add character, use your place as souvenirs. Use a magnetic board and display all the place magnets you have collected till now. 
You could also hang the postcards that you picked up each time you were out. When you decorate your RV with souvenirs it will bring back memories of the places you have visited. You can tell stories behind each souvenir to your guests.
Work on the bathroom
When working on the RV, why leave the bathroom. In fact, doing that is just what is needed to make your RV look gorgeous. Replace the existing shower curtain with a new theme. You could also add a matching rug and exotic soap dispenser. 
You could also add the peel and stick tiles, as they will change the entire look of your bathroom. These are readily available at any hardware store.
Work on the bedroom
Next, you must work on your bedroom. One stylish way of doing so is to add a headboard to your bed. The below are some options you could use.
Lattice headboard- These are very easy to make and not expensive too.

Placemat headboard- Quite lightweight and easy to place, they are a visual delight.

Tapestry headboard- If you have a tapestry or quilt, you can throw that over your bed. This is a simple way to bring out an exciting change.

Fabric headboards- Just use different headboards and create a new and different look.
Change the accompanying furniture 
If it has been quite a few years to your RV, you could think of changing the furniture. Most people believe that we cannot remove furniture from RV, but that is not true. Use expert help to get this done. 
Once finished, you can visit Ikea, Home reserve, FlexSteel, and Recpro stores and pick up any furniture item of your choice.
Change the paint
Perhaps this is the last attempt you can make. But, let us tell you that this is going to be the most effective one too. This is primarily because there are many kinds of changes you could experiment with. However, painting your RV can be a tricky task. 
The walls of such motorhomes are pretty slick. This implies you will have to sand the walls regardless of the paint you choose.
Once you are done with the sanding, you have to use a primer coat before starting with the paint job. Also, remember that to cover each portion, you will have to be meticulous. It will take some time before the paint job is over. 
If you are experimenting with different types of painting, then your job increases further.
Conclusion
Decorating your RV can be challenging, but the result is worth it. Post your work everyone will be awed by the simple yet effective steps taken. But, do not hurry in implementing any of these ideas. 
For best results, you have to plan everything in time and keep extra time in hand. If you complete the tasks diligently, the results are going to grab everyone's attention. Since your RV is going to travel loads, avoid keeping items that are flimsy and can break easily. You do not want to keep cleaning damaged stuff, do you?
Featured Photo by Olena Sergienko on Unsplash