Today's Day 1 of the Simplify for Fall Challenge, and we're tackling clothes and the laundry room!
As I mentioned in the announcement post, I'll be live blogging my way through this series, adding pictures and notes as I go through the area of the day in my own home (I told you this challenge was as much for myself as it is for each of you, and I need the forced accountability!).
I put clothing and the laundry room first because they're the two areas I most need to get under control.
Let's take a look at some before pictures, shall we?
Clothing
Although my own wardrobe isn't too bad (not quite 33 items, but still fairly minimalist!), I'm ready to limit the girls' clothing to a much smaller wardrobe than we've had in the past. Truthfully, I try to do this every year, but I hate parting with all the cute hand-me-downs, and they always end up with more clothing in their drawers than I'd like.
Earlier this summer I read about a family who was limiting their clothing to one week's worth to simplify laundry for the summer, and I've been mulling that over for the past few months. What I've realized is that the girls tend to change clothing often because they can, which means sometimes we end up with 2-3 outfits in the dirty laundry for each of them every day! I'm also able to procrastinate on laundry because they have so many clothes, and it can be pretty overwhelming to catch up once everything has been worn.
My hope is that once I minimize the amount of clothing they have, they won't be so quick to discard clothing in the dirty laundry and that even when I do get behind we won't have loads and loads of laundry to deal with!
One thing I've decided is that I'll have to rotate their wardrobe with each season — rather than just twice a year — since we do live in a four-season climate. But my plan is to get their stuff ready for fall and winter as I go through everything today so that rotating it for those seasons will just mean unpacking and repacking a box rather than sorting through everything each time.
I've put together a wardrobe checklist to follow, which I'm sharing here, but please note that this checklist is specific to our climate and probably won't work as well in an area with colder or warmer weather. It's also just theoretical at this point, and I may end up making changes to it after we've put it into practice!
Click here to download or print the Children's Wardrobe Checklist.
Laundry Room
The other area I'm anxious to tackle is our laundry room. It sits right off our kitchen (a must-have for me!), and it's become a storage room for pretty much anything that doesn't have a home somewhere else, including craft supplies, gifts, cleaning supplies, extra pantry items and more.
I'm planning to reorganize our food storage so that I can get some more of our stockpile out of the kitchen pantry, declutter the cleaning supplies (my husband is not as green as I am and has a bit of an addiction to trying various cleaning supplies!) and reorganize the crafts that we keep in there (mostly my sewing stuff). I also need to make room for Christmas gifts, as we head into that season, since we usually store them on the top shelf in the laundry room to keep them away from curious eyes.
I'm also planning to move the microwave to the basement. Although I'm not totally convinced about the dangers of microwave use, it's on my radar, and we're going to try living without it for two weeks. I'm really anxious to have the extra counter space in the laundry room, since that's where the microwave currently resides, so I'm hoping it's a change we can live with permanently!
Updates
I'll be posting updates here throughout the day. You can also see them in real time by following me on Instagram (@mandiehman) or Pinterest (@lifeyourway). If you're sharing pictures on either of those, be sure to tag your updates with #simplifyingforfall so we can all see them. Or if you're blogging your progress, leave the link to your post in the comments!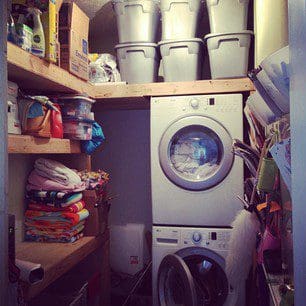 I started with the laundry room first thing this morning, and although it's a bit tedious, it's going pretty well. I started by emptying everything out of the laundry room so I could clean it really well and start with a fresh slate, and I was a bit shocked by how much was in there! My husband said that all of my packrat tendencies live in the laundry room!
Now that it's clean, I'm starting to put things back, but I'm having trouble making decisions because I like it nice and empty! I want to use the space wisely — it is a convenient storage space for crafts and cleaning supplies — without using it as a holding spot for everything.
source: mandiehman on Instagram
I finished up at about 1 p.m. after several hours, and here's the final view:
The bins on the top shelf hold our extra food storage — breakfast items, baking/spices, oils and pantry staples, etc. — and I'm planning to make labels for those. I also need to get a few more of those bins to continue the storage around the other side of the shelf for gifts, etc. You can see the pile of gifts I made on the shelf already; now I just need a box for it!
Without the microwave, this counter space feels so roomy; I love it!
That pile on the counter is stuff I still need to find a home for. I am having trouble deciding where it should go, so I've given myself to the end of the week to make a decision.
We keep basic craft supplies, coloring books, etc. in here, and we use the board for shopping lists, notes and random doodling. I bought a calendar that slips right behind the board so I can make notes about our appointments, cleaning schedules, etc.
We cleaned out all of the cleaning supplies and whittled the craft supplies down to just a few boxes, which makes the room feel roomier as well.
This evening I started working on the girls clothes, but I didn't get as much done as I would have liked!
source: mandiehman on Instagram
I did get our youngest daughter's clothes switched over, and it was hard not to pullall of the cute 3T clothes out of the box, but I stuck to my checklist anyway. Doing this before the end of summer actually made it easier because she'll get to wear the warmest clothes now and in a couple months I can switch over to the cooler weather clothes.
source: mandiehman on Instagram
I started on the big girls' clothes as well, but it was a frustrating process because I can't find very many 5T clothes– surely we had a full set at some point?! — so I'm trying to decide what to do for our 5 year old. After talking it over with my husband, I've decided to use what I have for her and supplement with the 5/6 clothes from her big sister. This goes against every fiber of my being — I like things to follow the rules! — but I don't want to buy new clothes for her if we don't have to either.
I'll have to keep working on the clothes over the next few days, but Wednesday should be a fairly easy day for me because I recently did a big toy clean out, so hopefully I can get it finished then!
What's your biggest clothing or laundry room challenge?