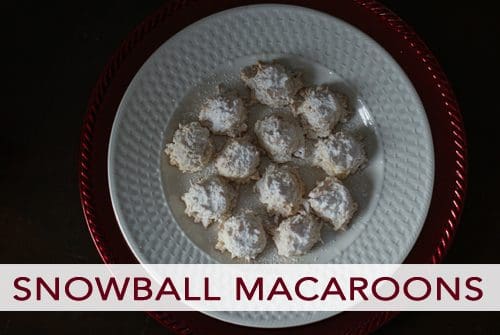 My favorite thing about these snowball macaroons is how easy they are to whip up. With just a few ingredients and a few simple steps, you can have delicious cookies in no time. Part coconut, part meringue, these cookies are crispy on the inside and chewy on the inside, and they're sure to be a hit with anyone who likes coconut!
Ingredients:
3 egg whites
2-1/2 tablespoons vanilla
1/4 teaspoon salt
1/2 cup sugar
3-3/4 cup sweetened shredded coconut, lightly toasted and cooled
powdered sugar
Directions:
Combine egg whites, vanilla extract and salt and beat with an electric mixer on medium speed until it turns white and soft peaks form. Slowly add sugar to the mix and beat on high speed until stiff peaks form. Gently fold in coconut.
Use a melon baller or small cookie scoop to drop rounded teaspoons onto a cookie sheet.
Bake at 350 for 10-12 minutes. The cookies should be lightly browned and crispy on the outside and moist on the inside.
Let cool for 5 minutes and then dust with powdered sugar. Transfer to a rack or plate to cool completely.
Click here to add this recipe to your Plan to Eat account.
Related Projects:
Join us as we celebrate 101 Days of Christmas with new DIY projects, gift ideas, traditions and more every day from now through Christmas!