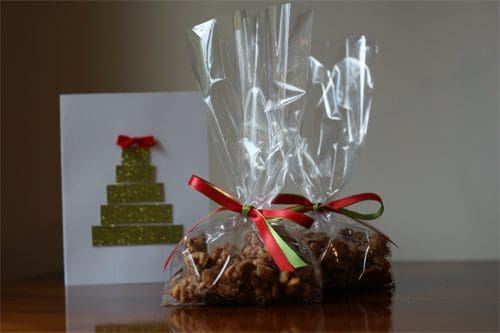 These spicy candied walnuts are seriously addictive! Sweet, with a slight kick from the cinnamon, these would make a great teacher gift or addition to a basket of baked goods and treats.
You'll need a candy thermometer to get the temperature of the candy coating just right, but these are actually really simple to make and sure to be a hit!
Ingredients:
1 pound walnut halves
1 cup white sugar
2 teaspoons ground cinnamon
1/4 teaspoon salt
6 tablespoons milk
1 teaspoon vanilla extract
Directions:
Preheat oven to 350 degrees F. Spread nuts on a baking sheet in a single later and roast for 8 to 10 minutes until they start to brown.
In a medium saucepan, combine sugar, cinnamon, salt and milk and cook over medium-high for approximately 8 minutes. Use a candy thermometer to watch the temperature until it reaches 236 degrees F.
Remove from heat and immediately add the vanilla, stirring well.
Add the roasted walnuts to the candy syrup and coat well. Spoon them onto waxed paper, separating the nuts with a fork.
Once cool, store in airtight containers.
Click here to add this recipe to your Plan to Eat account.
Join us as we celebrate 101 Days of Christmas with new DIY projects, gift ideas, traditions and more every day from now through Christmas!