The following post is from Shaina of Food for My Family and Olmanson Photography: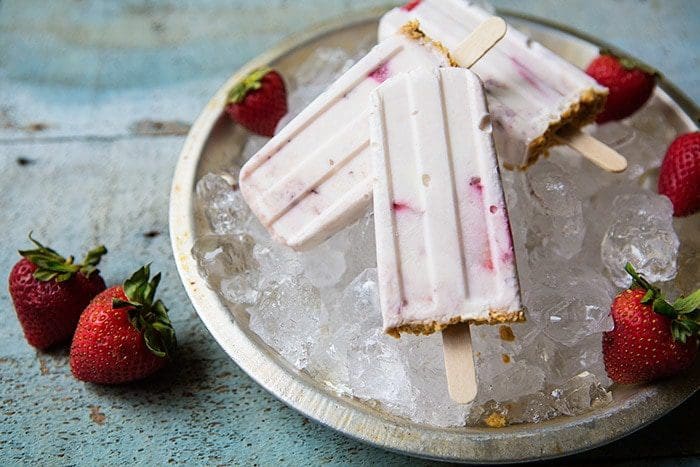 A recipe for cool, creamy strawberry cheesecake yogurt popsicles complete with a crunchy crust.
I always question whether it's the crouching underneath a bright, hot sun or the reward at the end — biting into red, juicy berries — that I enjoy most when it comes to strawberry season. I seem to find some sort of idealist excitement over the act of picking.
Even as a child, woken early by my mother and dragged to the strawberry fields at the farm down the street, I would revel in the moment, dancing through the rows of green. Mosquitoes would sting, my brothers would whine, and still I left not annoyed by the heat or the task, but energized by sunshine and dirt. So it is with my own kids.
Carrying home basketfuls of berries, each child with a flat on their lap, a world of possibilities before us, the first thing to do is toss a few into popsicle molds for the afternoon. After they've run through the sprinklers or splashed in the pool and washed all the dirt from the morning picking from their knees, a sweet, cool reward is waiting for them in the form of a creamy popsicle.
Strawberry cheesecake is always one of my favorite frozen treats, be it the cake itself or in ice cream form. This combines the both of them, using yogurt as the base, and they are just what late spring ordered to be delivered.
Strawberry Cheesecake Popsicles
Author:
Shaina Olmanson | FoodforMyFamily.com
Ingredients
½ cup Greek-style plain yogurt
4 ounces cream cheese, softened
½ cup simple syrup
½ teaspoon vanilla extract
½ cup strawberries, sliced
4 graham crackers, crushed
Directions
In a food processor or blender, combine the yogurt and cream cheese. Mix until smooth. Add in the simple syrup and the vanilla extract.
Blend into the strawberries, mixing until some chunks remain.
Spoon the mix into popsicles molds. Carefully place about 1 tablespoon of crumbs on the top of each mold, pressing into the cheesecake mixture.
Freeze until firm. To unmold, hold in your hands to warm slightly or run under warm water for 20 seconds. Enjoy immediately.
Notes
Yield will vary by popsicle mold size.
Shaina Olmanson is the freelance writer, photographer, and home cook behind Food for My Family. Cooking daily with and for her four kids and husband, Ole, drives her desire to inspire other families to do the same. Shaina is also the author of Desserts in Jars and contributes regularly to a variety of online sites and traditional print magazines.