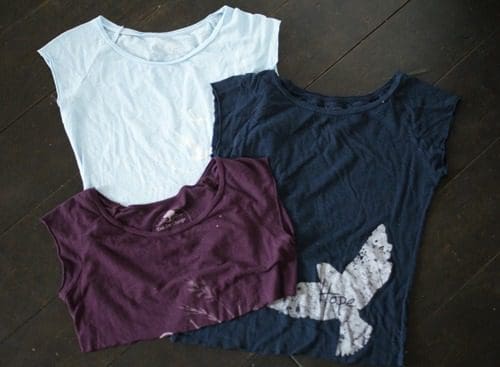 This week I'm seeing how many DIY projects I can get out of three old t-shirts. I'm not the craftiest person in the blogosphere, so if I can do these, anybody can!
For the final project from my three t-shirts, I decided to make a t-shirt bunny, inspired by this adorable tutorial. They're so cute, aren't they?
But then I decided I didn't really need to waste paper by printing the template she provided…so I drew my own right onto my t-shirt with chalk. Have I mentioned I'm not the most crafty/artistic person? Yeah, the outline looks like it would work, but you'll see…
Next, cut through two layers for the body and two for each ear. I decided to add a bit of purple to one of my bunny's ears to give it some character.
From here, it's really simple. Just sew around the edges, leaving the bottom open. Then sew each ear and tack it to the bunny's head. Tie the neck to make it more defined and stitch across the crease for each of the limbs.
Unfortunately, if your template wasn't right to start with, this is what you get:
The baby likes it, though, so that's okay!
I'm definitely going to try this one again — this time with the template from Chez Beeper Bebe — because it was a fun and easy project, and I'm determined to make one as cute as the original!
What is your favorite t-shirt craft? When was the last time you cleaned out your t-shirt collection?