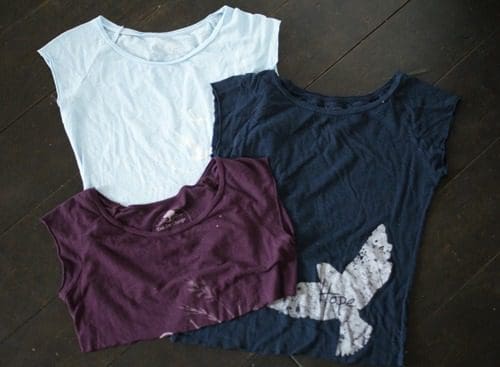 This week I'm seeing how many DIY projects I can get out of three old t-shirts. I'm not the craftiest person in the blogosphere, so if I can do these, anybody can!
I was first inspired to try my hand at making a t-shirt pom-pom by this gorgeous picture on Pinterest. They're so colorful and happy! We have a wooden tree in our kitchen that holds wooden balls most of the year and silver balls at Christmas, and I'm thinking I need to find some lime green tees that match my dishes to make some springy ones as well.
This project is fairly easy, but I had a couple "duh!" moments along the way, so I'll tell you about those as we go.
To start, grab some cardboard from the recycle bin (mine is from a Kix Berry Berry cereal box — now without artificial dyes or high fructose corn syrup!). Use a bowl to trace and cut a circle on the box. Use a smaller object to cut out an inner circle so that you can wrap your t-shirt strands around it.
Here's lesson #1: The width of your cardboard ring — not the size of your circle — determines the size of your pom-pom. I used a pretty big outer circle, but I should have gone smaller on the inner circle for a couple of reasons. One, even with as big as the circle was, the pom-pom is only about 4″ in diameter because the cardboard ring itself is relatively small. Two, because the hole in the middle was bigger than the width of the ring, my strands kept wanting to fall off once I started cutting them. Make your inner circle much smaller!
I cut the remaining t-shirt pieces into strips, and I was a little worried that I wouldn't have enough for the pom-pom after all! Thankfully, because I did make my ring so skinny, it worked out!
Streeeeeeeeeeeetch your strands like we did for the t-shirt necklaces.
Some of my strands were pretty short because I had cut out pieces of the t-shirt for other projects, so I decided to tie my strands together before wrapping them, just to make it faster.
If I ever do this again, I'll make t-shirt yarn so that I have one long piece to work with!
Before you start wrapping, take one t-shirt strip and sandwich it between your cardboard disks.
Then, wrap your strands around the disc, spacing them as evenly as you can. I started in the middle and went to one side, back to the middle, all the way to the other side and back to the middle again, but you could probably start at one end and wrap it to the end and back as well.
Unfortunately, this is where I stopped taking pictures because things weren't going exactly the way I expected. Ideally, you'd loosely tie the strand that is between your discs to secure your wrapping and then begin cutting the loops along the outside edge of your discs. Because my center circle was too big, doing that just made my strands pop right off, so I ended up sliding all of the loops off the disc (yes, it was tedious; no, I don't recommend that method!).
Once it's all off the discs, tie your string tightly to hold all of the strands together. (I also had to cut all of my loops at that point.)
Finally, trim your ball to make an even circle. The best way to do this is to take two smaller discs and sandwich the ball between them, trimming around the outside edge. Honestly? I was out of energy by the time I got to that step, so I eyeballed it…as you might be able to tell!
Still kinda cute, though…right?
What else do you think you could use t-shirt pom-poms for?