Okay, you may have figured out by now that I really love every part of the traditional Thanksgiving meal, and it's true. We went on a cruise with my company a few months after we got married, and I was so excited when I realized that dinner one night was a traditional Thanksgiving dinner — in February! Rolls can be served any time of the year, of course, but they definitely deserve a place at honor at your Thanksgiving table.
Have you downloaded your free Thanksgiving ebook and printable planner for recipes, tips, decorating ideas and more?

1. Hot Dinner Rolls, Modern Day Ozzie and Harriet
2. Cheddar Cheese Rolls, Simply So Good
3. Whole-Wheat Buttermilk Rolls in a Jar, Simple Bites
4. Poppy Seed Dinner Rolls, Gayathri's Cook Spot
5. Carrot Poppy Spelt Dinner Rolls, Angie's Recipes
6. Pumpkin Dinner Rolls, Money Saving Mom
7. Great Grandma Munns' Hot Rolls, Oopsey Daisy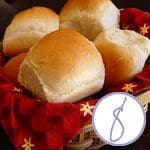 8. Fluffy Dinner Rolls, Jamie Cooks It Up!
9. Honey Dinner Rolls, Averie Cooks
What type of rolls do you serve at Thanksgiving?