The following post is from Christina of Northern Cheapskate: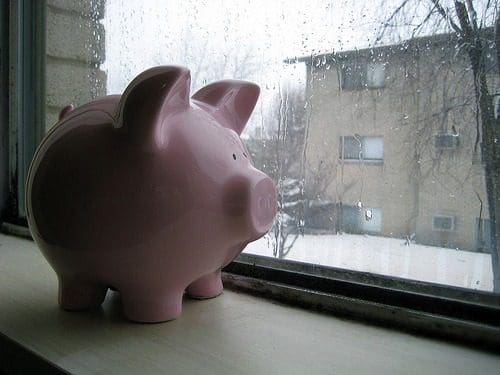 If you have ever read anything by Dave Ramsey (of Financial Peace University and the Total Money Makeover), then you may be familiar with his Seven Baby Steps to Financial Peace.
The first step is to establish a $1,000 emergency fund.   The idea behind this step is that if you have $1,000 saved in the bank, you won't turn to credit cards whenever an emergency crops up.
Once you've saved that $1,000, step two is to pay off all of your debts.
Unfortunately, it's all too easy to stop with the steps when you get your debt paid off.  After working so hard to pay off your debt, it's perfectly normal to feel like a puppy who just discovered an open gate.  Without your debt looming over you, there is a lot of temptation that can lead to lifestyle creep.
That $1,000 emergency fund is just the first step.  It's the catalyst to a lifelong change in attitude toward how you save and how you spend.
If you're committed to being debt-free (and staying debt-free),  then you need to carry on with the Baby Steps.  You need to build that emergency fund, start saving for retirement, help fund the kids education, pay off the mortgage, and then build wealth and give.
My husband and I have been debt-free except for the house since 2006.  We built a house, added twins to our family, and I became a stay at home mom.  It hasn't been easy for us to stay out of debt and focus on the remaining steps.  Here are some ways we've stayed motivated:
Stay on the Same Page
My husband and regularly discuss our finances.  We work on our budget together.    When you and your partner can agree on what you want to accomplish, you'll have much more success.
Prioritize Projects  &  Designate "Wants" vs. "Needs."
There is constant temptation everywhere.  And while it's okay to blow a little bit of money every now and then, delayed gratification in honor of the greater goals can be a wonderful thing.
Remember Where We Were
One thing that surprised me, when we had paid off our more than $60,000 in debt, was how easy it was to forget what a struggle it was to pay it off.  Sometimes, I take myself on a little trip down memory lane. Looking at our credit reports and our sad bank account statements from those years of living in debt can help me recognize just how far we've come.  And it serves as a good reminder of why I never want to live that way again.
Focus on the Future
My husband and I dedicate a couple of date nights a year to setting goals (both financial and others) for our family.We lay out the kind of family life we want, and spell out how to pay for it.  When you're on the same page, these little goal-setting sessions really get you pumped about staying debt-free.
Never Stop Learning
We are always trying to learn new skills, develop ones we have, and connect with others who share our interests.  There's certainly no one right or wrong way to manage your money, so why not hear what others have to say on the topic.
Just because you've paid off debt and have more money to spend, doesn't mean that you should just blow that money.  Instead, remind yourself that the journey to financial security is a marathon and not a sprint.  Setting up that little emergency fund and paying off the debt doesn't even take you halfway to the finish line.  Those first two steps are merely the training that bring you to success.  Stay focused.
How do you stay motivated on your journey to financial freedom?

Christina Brown is the creator of Northern Cheapskate, a blog dedicated to frugal living through coupons, freebies, and money-saving ideas.  She lives in the rural north woods of Minnesota where she clips coupons, pinches pennies, and chases her three boys (a 7-year-old and twin 5-year olds) as a stay-at-home mom.