What are the benefits of having your own shed? This is a question that many people ask themselves when deciding whether or not to buy one for their property. To help shed some light on this subject, you should go over several of the most common benefits that shed owners experience. Read on to learn more!
You can store lots of things 
A shed is usually used to store large items. It is a good place to store things to keep them safe and secure. You can have these prefab wood buildings custom built so that it fits onto the side of your house, or you could build one yourself if you know how to do this kind of work. After that, you'll have the perfect place to put away whatever things you need to access quickly. 
These usually include the following:
Garden tools

other tools 

Lawnmowers

Wheelbarrows and other objects are used to play outdoor games like badminton, etc.

Lawn chairs

Anything else you might want to use outdoors but don't need in your home.
A shed usually has room for more than just storage purposes though some people use their shed as an area for crafting or fixing things. If you are not into that, then maybe using part of your shed as an outdoor kitchen would be nice because you will need somewhere outside for cooking food when entertaining family and friends during barbecues throughout the warmer seasons.
It can pose as a storage unit
A shed is a perfect place to store away items that you don't use daily because it's usually isolated and has just enough space to hold all your belongings. Also, they are often used as a place to put boxes of things that you may have a use for later but not at the moment. It helps a lot to get rid of clutter in your home and make it look more spacious.
Placing storage units outside may pose problems when it starts to rain since water could seep through cracks, but an advantage with sheds is its elevated floor which makes sure nothing gets wet nor damaged by moist grounds. This way, items stored away are safe from potential damage due to weather conditions which help avoid spending money on replacing items that might get damaged during storage.
Sheds make things convenient for people who like to store away expensive appliances or gadgets, too. It's also cheaper than renting storage units which will be further away from you.
It can even be used as a small garage or a boat shed
If you have a second car or a boat, it is probably a good idea to have a shed to house these items. Having your own little building also allows you to protect these vehicles from rain and sun exposure. This will give them a longer life, and you'll have peace of mind knowing they're always stored away safely. 
Sheds are usually well-ventilated, but they should be waterproofed or covered with tarpaulin in case of heavy rainfalls during wintertime. It is recommended to use a harder wood because it does not rot easily, making it less likely to be affected by humidity due to its porous surface structure. 
Sheds are an economical way of adding space to your property
Sheds are cheap to build, which means it's one of the most cost-effective ways to add extra space to a property. In fact, shed construction costs less than your yearly cell phone bill! Also, it is one of the quickest ways you can build something because these prefabricated sheds are made using modern manufacturing techniques that take into account weather conditions and other regional factors.
Another benefit of having a shed is that they don't require much in terms of upkeep or repairs, which means there's no need for expensive renovations. These buildings have been designed with ease-of-maintenance features such as low-maintenance finishes and doors that open from the inside, so if anything happens to them, you won't be spending lots on fixing broken windows or replacing damaged locks.
Shed kits come in all shapes, sizes, and materials, which means you can customize them to suit your needs. If you're a fan of DIY, then shed construction is definitely the option for you because they are incredibly easy and affordable to build. All it takes is a hammer and nails or some screws!
With that being said, having an extra shed in the backyard brings many benefits. These buildings provide additional storage space, which is especially useful if your garage isn't big enough for all of your tools and equipment. Plus, sheds usually come with windows, so during summer months, when temperatures get high, they offer shade from direct sunlight too. 
You can make a workshop out of your shed
The little hut outside your home is a perfect place to establish your own workshop, whether you need to use it for repairs or just want somewhere private, that is big enough to store your tools.
Every shed can be adapted into a work area, even if all you have available are basic garden storage facilities. If the shed is already being used to put lawnmowers and other outdoor equipment, then there's no extra effort required to make this space suitable for working with wood or metal objects. 
There needs to be adequate lighting so electrical items can be worked on without difficulty. Lights should hang from the shed's ceiling at an appropriate height so they illuminate whatever task has been set up but don't get in the way when moving around inside. It will also help if light sockets are installed along one wall so extension leads can be plugged in and work carried out on electrical items.
They can provide shelter for your pets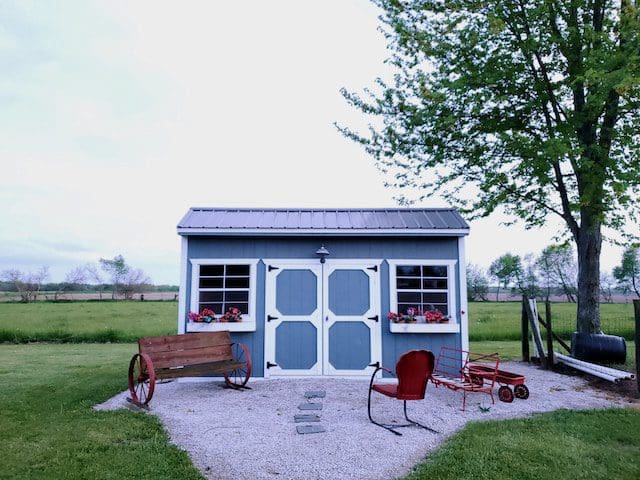 If you're not a fan of having pets inside the house but still want to protect them, having a shed can help. If you have a shed, it can provide shelter for your pets when they are outside. This is especially true in the winter months, where temperatures drop. If you have a shed, it won't be affected by cold weather, snow, or even rainfall. Create an area for your pets to make sure they'll be comfortable and not start ruining it from the inside. 
A shed is a must-have of a household because, first of all, it helps you store away tools and outside things, giving you a clean backyard. Also, you can use it as a garage and protect your pets as well. Store away things you don't use at the moment inside it as it's a cheap way to add to your property, and you'll have an easy time maintaining it!
Featured Photo by Sebastian Huxley on Unsplash