I recently came across a special offer for a subscription box, and I must have been thinking about Christmas at the time because I had a lightbulb moment. I decided it would be fun to get each of the kids a box for Christmas morning if I could find several introductory offers to make it affordable. We always give our kids a craft or activity of some sort for Christmas morning because we don't open all of our presents until after breakfast, and these boxes will be perfect!
The key to my plan was finding a box that was perfect for each of them rather than just buying something because it was a good deal. Thankfully, I did! While I was at it, I also picked up a couple of snack boxes to add healthy(er) treats to their stockings.
Here's what we got:
This post contains refer-a-friend links, but I have personally purchased from each company below, and I'm sharing my honest opinions about each!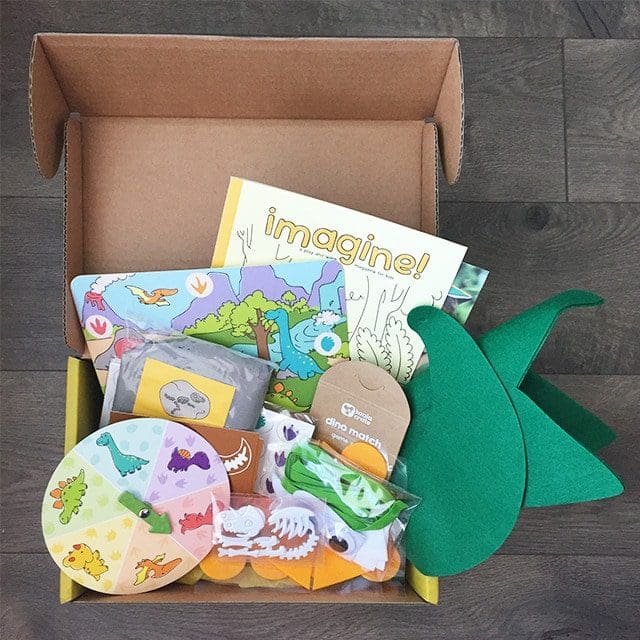 Koala Crate for our 3-year-old
I did not select the theme for this Koala Crate box from Kiwi Crate, but I squealed when it arrived. A certain little 3-year-old boy is obsessed with dinosaurs right now, and he is going to have so much fun making this dino mask, playing the little game that's included and working on the other crafts. He's gotten the short end of the stick on crafts since his little brother was born, so I'm warning everyone now: I will be helping him with these on Christmas morning; you may be on your own for breakfast!
Click here to get your first box for $10.
Tinker Crate for our 10-year-old
Tinker Crate is another one of Kiwi Crate's subscriptions, and this one is geared toward STEM activities. Our 10-year-old loves to tinker and build and experiment, and these fiber optic stars are really neat. I can't wait for her to dive in!
Click here to get your first box for $10. (The cool thing about Kiwi Crate is you can set up multiple subscriptions and pay just $10/box for your first box for each subscription. As a mom of many, I really appreciate that!)

Doodle Crate for our 9-year-old
I don't have a picture of this one yet because I just ordered it up a few days ago. I was hoping to find an awesome sticker subscription for our 9-year-old, but any way you slice it, a few sheets of stickers just doesn't compare to the boxes her siblings were getting. So instead I picked out this hand-carved stamp box from the Kiwi Crate store to kick off her subscription.
Click here to get your first box for $10.
Surprise Ride for our 7-year-old
Crystal at Money Saving Mom recommended Surprise Ride as her favorite subscription for kids, and this one looks pretty fun (ours hasn't arrived yet because they ship on a specific day of each month, so this photo is from their website)! Our 7-year-old will be excited about the crafts and the hot chocolate for sure, and I'm looking forward to having a book to read with her as a special treat!
Click here to get your first box FREE (just pay shipping!)
Julep & Honest Beauty for our 12-year-old
Our oldest is very into makeup and beauty (I've shared more about this in the past, and her talent and skill continues to grow!), so I started hunting down beauty subscriptions for her. I ended up getting a combination of offers, which means I spent more on her than I did her siblings, but I'm okay with that.
The first was an Honest Beauty trial with a cute pouch and trial size bottles of some of their products. I did not like that they wanted to ship me a full-size box just a week later, and I don't think this is a subscription we'll ever use again.
The second was a Julep box that came with a nail polish, eye shadow and konjac sponge. My only frustration here is that they invited me to add on a konjac sponge at checkout, which I did because she likes using those for washing her face, and I wouldn't have if I'd known there was going to be one in the box already. But she'll use them both eventually, so it's not a huge deal.
I got my box for half off, but right now you can get a free 12-piece nail polish set with a full-price box ($25), which is an even better deal, and I would have skipped the Honest Beauty offer if that had been available when I ordered!
Click here to sign up for your first box (use coupon code FREEFALL for the free 12-piece nail polish).
Snacks for everybody!
Okay, so I may have gotten a little carried away after my first few orders, but I couldn't resist trying Nature Box snacks as well, and I'm excited to be able to add a pouch of these snacks to their stockings. I love these snacks, but they're just so much more expensive than the snacks we buy at Aldi (even the organic, "healthy" ones) that I can't justify it as a regular subscription!
Click here to save 50% off your first order.
A word about continuing these subscriptions
I signed up for each of the subscriptions above with the intent of trying one box and canceling my subscription. I would love to do them monthly, and I do think they're worth the price of the box, but we have six kids, and 6 x $20-$25 is a lot of money! I'm still trying to decide if there's a way to do just two boxes a month and rotate who gets one or if that will end up being a huge headache to manage. But if I had fewer kids, I would absolutely pay for these in a heartbeat.
Does your family do any subscription boxes? Which ones are your favorite?