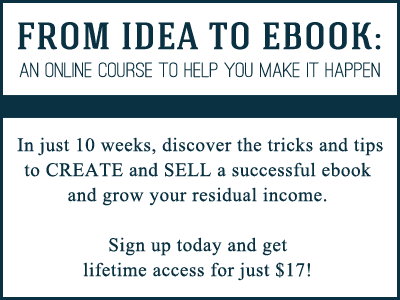 After spending a few week on high-level topics like choosing a topic and exceeding expectations, we're getting into the nitty gritty of creating an ebook, and while writing and editing (which we covered last week) are among the most important aspects of publishing an ebook, design is pretty high up on the list as well!
In Module 5, we're talking about the importance of good design, including:
The role good design plays in marketing and selling your ebook
Knowing when to outsource the design of your ebook
The elements of a good interior design for appearance and usability
The elements of a good cover design
Using fonts and images and the copyright laws you need to be aware of
In addition, we've got case studies from professional designers and their tips on designing an ebook that sells.
If you haven't signed up yet, it's not too late to join us: Register today and get lifetime access to all 10 modules, the set of case studies, all of the printables and the resource lists for $17!
When you're buying an ebook, do you judge it by its cover?