According to a recent study, Tie-dye is the most popular 1970s inspired craft. Pattern resource provider Design Bundles used Google and hashtag numbers from social media platforms to determine how popular a craft is, based on how often they are searched for or posted online. The most popular craft, tie-dye, received 971,000 Google searches on average per month. In addition, the tie-dye hashtag had 5.9 billion views on Tiktok and 7.1 million hashtags on Instagram.
After finding the number of hashtags and Google searches, the research was compiled into an index score. Following this method, macramé was the second most popular craft from the 1970s era. This textile craft has been googled an average of 84,000 times per month, and the hashtag was subject to 623 million views on TikTok. There were also 7.4 million hashtags posted on Instagram related to the craft.
Macramé 
Macramé (sometimes spelled macrame) consists of a knotting technique with a decorative pattern with fringed edges. Although the craft has been around for centuries, it became incredibly popular in the western world during the 1970s. Thanks to the hippy and flower power movements, the handmade craft saw a rise in interest during the decade. People could decorate their homes with knotted plant pot holders, amongst other decorations.
Patchworking
Yet another 1970s craft that has seen a resurgence in recent years is patchworking. As with macramé, this textile method has been used by people for centuries, particularly in the Victorian era. Traditionally, patchworking is used by people who want to reuse old fabrics, which has proved so popular with the eco-friendly generations of the 1970s and today.
The term 'patchwork' was googled 73,000 on average and had a hashtag count on Instagram of 3.8 million. The needlework method also had nearly 112 million hashtag views on TikTok. Combined, these results helped place patchworking in a ranking of three.
Similarly, tie-dye also uses old clothing items and refurbishes them for a new lease of life. Tie-dye was a widely popular style in the 1970s thanks to its psychedelic patterns that fit perfectly with the atmosphere at music festivals and protests. Crafters can wear their creations, knowing that the handmade design is unique.
What are the top ten most popular 1970s inspired crafts?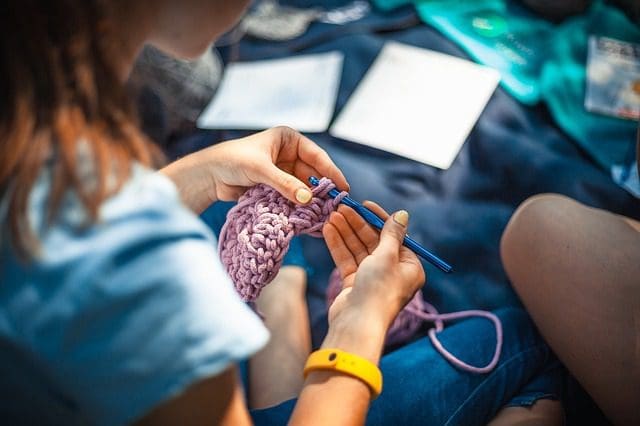 Aside from the vintage crafts of tie-dye, macramé, and patchworking, many other 1970s inspired crafts have become increasingly popular.
Weaving 
Weaving had the same number of Google searches as patchwork at 73,000. However, while the weaving hashtag had 195.5 billion views on TikTok, weaving had a slightly lower Instagram hashtag count than patchwork, with an average of 2.5 million.
This craft is based on entwining yarn or threads together to make a fabric. One popular example of weaving is friendship bracelets, which are brightly colored bands worn on the wrist.
Another thread-related craft is string art. As with weaving, colored threads are arranged to form geometric patterns. As with most of these crafts, it is relatively easy but time-consuming. On average, this art form has 80,000 Google searches, 272 million hashtag views on TikTok, and 893,000 Instagram hashtags per month.
Hooked rugs
Hooked rugs are another popular craft form that involves weaving fabric to get the finished product. This craft earns around 10,000 Google searches and 14,700 Instagram hashtags each month. However, the art form has proven the most popular on TikTok, as the hashtag earns around 310 billion views every month. This makes it one of the most popular 1970s crafts on the platform, despite having relatively low searches on Google.
Découpage
A popular craft for families with kids is découpage. It involves gluing small bits of colored paper onto a wooden or cardboard base. In an average month, découpage can get up to 159,000 searches on Google. The papercraft also has around 33.1 billion hashtag views on TikTok and an impressive 1.8 million hashtags on Instagram.
Granny squares
Granny squares have also seen a surge in popularity in recent years. The squares, which are crocheted or knitted, can be made into blankets, bags, and other designs. Per month, granny squares can get up to 33.1 billion hashtag views on TikTok. Due to the unlimited combination of colors and designs, many internet users are keen to look for inspiration online.
Shrinky dinks
Shrinky dinks, another common craft in the 1970s, is most popular amongst children. However, adults are also known to enjoy the activity of heating polystyrene shapes in the oven to make keyrings and charms. During an average month, shrinky dinks can have around 175 billion hashtag views on TikTok, a 73,200 hashtag count on Instagram, and an average Google search number of 51,000.
Needlepoint
Needlepoint, a type of canvas art, had 14 million hashtag views on TikTok, 564,000 hashtags on Instagram, and 33,000 searches on Google on average each month. It is often considered a very therapeutic craft due to the methodical way the needle is threaded through the fabric to create pictures and patterns.
Rankings
Below is a table showing the 1970s inspired crafts that rank highly on Google and social media platforms TikTok and Instagram. These results show the average number of searches per month across the globe.
| | | | | |
| --- | --- | --- | --- | --- |
| Rank | Craft | Average no. Google Searches per month | TikTok Hashtag Views | Instagram hashtag count |
| 1 | Tie dye | 971,000 | 5,941,000,000 | 7,100,000 |
| 2 | Macramé | 84,000 | 623,300,000 | 7,400,000 |
| 3 | Patchwork | 73,000 | 111,900,000 | 3,800,000 |
| 4 | Weaving | 73,000 | 195,500,000 | 2,500,000 |
| 5 | String art | 80,000 | 272,100,000 | 893,000 |
| 6 | Découpage | 159,000 | 33,100,000 | 1,800,000 |
| 7 | Granny squares | 15,000 | 33,100,000 | 917,000 |
| 8 | Shrinky dinks | 51,000 | 175,100,000 | 73,200 |
| 9 | Needlepoint | 33,000 | 14,920,200 | 564,000 |
| 10 | Hooked rugs | 10,000 | 310,300,179 | 14,700 |
Social media
Crafters often use social media to find out more information about the art form. There are plenty of fun videos and photo tutorials across the internet to help users discover a new DIY outfit to follow a fashion trend or ideas for decorating a room in their home.
A spokesperson for Design Bundles commented on the findings: "It is exciting to see these 70s crafts resurge in popularity as they not only have a sense of positive nostalgia for a lot of individuals, but they also encourage skills to be passed along and given a new lease of life. This is now even easier with social media, where tutorials are readily available for those looking to pick up new crafts at home."
Featured Image by larosesharon en Pixabay