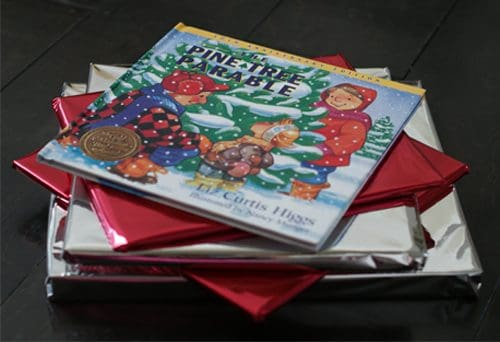 Although I wouldn't recommend starting this activity today with 94 days until Christmas, I wanted to share it early to give you plenty of time to get prepared!
Unwrapping — and reading —  a Christmas book every day during Advent is a fun tradition that the whole family will enjoy, but it doesn't have to be expensive. It's fun to add to your collection over the years, a little at a time, but you can also borrow books from the library or trade with a friend halfway through the month.
Here's a list of books that our family either loves or has on our own wishlist because they come highly recommended:
The Reason for the Season
Reading about the reason we celebrate Christmas is an important part of our family's Advent focus, and these are some of our favorites:
The Parable Series: The Pine Tree Parable by Liz Curtis Higgs
Classics
Whether the original classic or classics adapted for children, these favorites have been enjoyed for generations:
The Polar Express by Chris Van Allsburg
The Night Before Christmas by Clement C. Moore
Just for Fun
We love to read about our favorite characters at Christmas time, and Fancy Nancy, Llama Llama and Madeline never disappoint:
Fancy Nancy: Splendiferous Christmas by Jane O'Connor
Merry Christmas, Amelia Bedelia by Peggy Parish
Madeline's Christmas by Ludwig Bemelmans
NOTE: Click here for the books we added to our collection in 2013!
I'd love to hear about your family's favorite Christmas stories in the comments as well!
Join us as we celebrate 101 Days of Christmas with new DIY projects, gift ideas, traditions and more every day from now through Christmas!