The envelope budget system is a method of budgeting that literally involves dividing money into separate envelopes by category so that you can actually see how much you're spending and where the money for "extra" purchases is coming from. Although you can certain start with regular paper envelopes, they can get beat up or messy fairly easily. Here are 9 envelope systems you can make or purchase to organize your budget:

1. Cash Envelope System | $10
2. Long Accordion Purse | $28.99
4. 10-Tab Envelope System | $20
5. DIY Cash Envelope Wallet Insert
6. Savvycents Wallet | $24.99
7. The Cash Wallet Magnetic Envelope System | $48
8. Cash Envelopes w/ Designer Pouch & Coin Purse | $30.97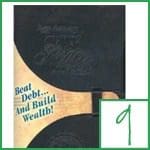 9. Deluxe Executive Envelope System $13.57
Do you use the envelope system for your budget? How do you organize your cash?