I try not to buy Kindle books unless I'm planning to read them right away, since it feels like it would be easy for them to get lost in the abyss, which would just be a waste of money, but lately I seem to be collecting a virtual "to be read" pile as I end up reading whatever captures my attention each week instead of what I planned to read. Oops!
Head here to see Katie's post for this week. We also want to know what you're reading! Add your blog post to the linky below or leave a comment with your favorite reads from this week.
This Week's Reads
The Scorpio Races by Maggie Stiefvater
This book was a little outside my normal reading material. Part mythology, part fantasy, it had a dark undertone that you could feel from the very first sentence, and I'll admit I had some crazy dreams after reading it at bedtime. The setting is a small island community surrounded by the deep, dark sea — home to the capaill uisce, violent water horses who emerge from the sea every November in a hungry rage. To honor these mythical creatures, the community holds their annual Scorpio Races, where they seek to train (but not domesticate) these creatures, despite the danger and inevitable deaths. This year's race holds especially high stakes for two riders — Sean Kendrick and his champion capaill uisce, Corr, and Kate "Puck" Connolly, the first girl to race.
Despite the dark storyline, I couldn't put this book down. The writing is just stunningl, and I found myself stopping to reread paragraphs (not something I normally do, even with my favorite books). Maggie Stiefvater's insight into humanity is pretty striking as well, and so often she would describe the reaction or emotion of a character in a way that was spot on but not something I ever would have been able to put into words.
I don't know that I'll read any of Stiefvater's other books (many of which run more on the paranormal side), but I have a feeling this one will be one of a few books that I actually reread in the future.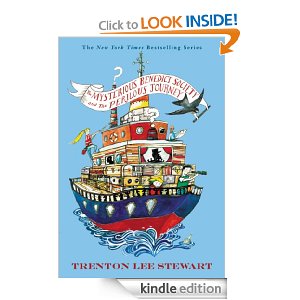 The Mysterious Benedict Society and the Perilous Journey by Trenton Lee Stewart
My oldest daughter is listening to The Mysterious Benedict Society for the third or fourth time and is anxious to move on to the second story in the series,  but Heidi mentioned that the second story is a bit scarier than the first (which it is!), so I decided to read it first.
As the Reynie, Kate, Sticky and Constance set off on another adventure — this time alone as they seek to save Mr. Benedict from his evil twin brother — they face more danger than they did during their first mission. I think my oldest will be fine with the scary elements — like the Ten Men, the evil henchmen of Mr. Curtain, who seek to stop them no matter the cost and the danger that Mr. Benedict and Number Two are in, but we'll make sure she listens to this one during the day by herself rather than at bedtime with her younger, more sensitive sisters!
On My Reading List for This Week
I'm a little hesitant to share a reading list since I haven't stuck with it, but here are the books I have in my queue:
A Question for You
I'd love to know how you decide which books/audiobooks are appropriate for your children. Do you preread them all? Use a specific review site? Stick with classics? This is something I think we'll be dealing with more in the coming year, and I'd love to hear your thoughts!
Share Your Reading List
'); // ]]>
The Mysterious Benedict Society and the Perilous Journey